…Partners, Pass.NG, Traclist to reward customers
Leading global mobile communication app, WeChat has announced a unique partnership arrangement with two Nigerian start-up companies to help them grow and gain easy access to WeChat's growing audience with various offers in conjunction with these partners.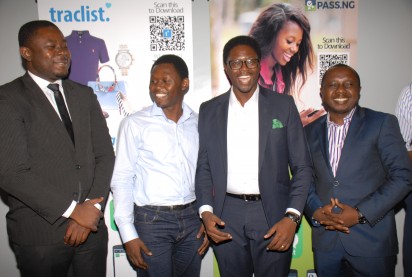 In October, 2015, WeChat partnered with one of the leading technology blog, Techcabal for an ideathon titled WeChat Africabeta with the theme: CHAT 3.0. This was organized to select the most interesting ideas from Nigerian businesses and start-ups that can ride on WeChat platform.
This ideathon had 80 applications, out of which top 10 were chosen, among these are Pass.NG and Traclist who are the first set of newly launched services on WeChat. Having these services built on WeChat is an opportunity for the service providers to create a native mobile app that can be accessed on all smart phones (Android, Blackberry, Window's phone and iphone) through WeChat.
Traclist – is an online marketplace with concentration on fashion retail that brings the fashion merchants and buyers together on a secured and convenient platform to transact.
Traclist service is built on WeChat to provide a more personalized and customized user experience. Also give up to 10% discount to users that buy through Traclist official account on WeChat for their first order.
Pass.NG – is an examination preparatory and testing platform. The platform aids users prepare for WAEC, NECO, UTME (JAMB) and post UTME to get admission into Nigerian Universities.
Pass.NG service on WeChat offers one month free subscription for users that subscribe via Pass.NG' official account on WeChat during the period of this campaign.
Speaking at the press briefing in Lagos on Thursday 3rd December, WeChat Regional Manager for West Africa Mr. Idemudia Dima-Okojie disclosed that "with the launch of these services, WeChat is creating a vibrant ecosystem with different services that are of value for WeChat users."
"While messaging is at the heart of WeChat, we are creating a platform that goes beyond simply instant messaging, a platform that provides a set of functionality ranging from service delivery & transactions, product discovery, customer relationship management, ecommerce, media distribution and much more."
According to him, "WeChat Official Account is an app inside an app that gives organizations, businesses and brands the opportunity to create a native experience within WeChat. This reduces the cost to develop a native mobile app, reduces time to market and provides easy access to healthy base of smart phone users."
He further stated that the launch of these exclusive offers on WeChat is just the beginning. In the next few weeks WeChat will be launching two additional services that will take the Nigeria startup story to the next level, please watch out.
Idemudia noted that the partnership arrangement is just one of the many ways WeChat is helping to grow local businesses, while at the same time creating an added value to the chatting experience.
"We are determined to continually provide solutions to grow local businesses, and we will always look for ways to improve the experiences of our users through innovative thinking and features," he concluded.