By Ochereome Nnanna
EVERY Nigerian loudly proclaims  their hatred of corruption. Corruption has made majority of us poor and our country backward, with only a handful of super-rich folks, most of them crooks. We all want corrupt people brought out to the public square and lynched. But how many of us can cast the first stone? When this question was posed to a Biblical lynch mob, none of them had the nerve or conscience to do it.
But I bet you, if the same question is posed to a Nigerian lynch mob, everybody will immediately stone Mr Corruption dead. In Nigeria, corruption is seen only in the context of "the other person" and never "me".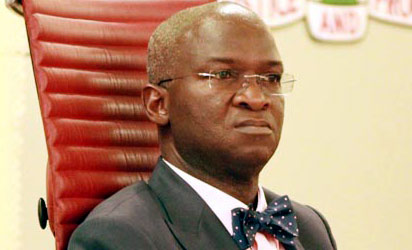 No one has demonstrated this Nigerian mentality more than our first two-time president, General Olusegun Obasanjo; a man who came out of General Sani Abacha's prison with his chicken farm in Ota in ruins.
But after his eight years as Nigeria's president, during which he was the Minister of Petroleum Resources for six years and presided over the sales of our vital public assets, no one is left in doubt as to his new level of affluence. Obasanjo is at the forefront of the effort to probe former President Goodluck Jonathan for corruption, but he does not want the probe to be extended to his own time.
Former Governor of Lagos, Babatune Raji Fashola (SAN) displayed this trait to show he is a "true Nigerian" during the "unveiling" of the candidate of the All Progressives Congress (APC) Mr. Akinwunmi Ambode, to senior editors at the Oriental Hotel, Victoria Island, in December last year. Dressed in a simple pair of jeans and long sleeved checkered shirt, Fashola, vibrating with fervour over the presidential candidacy of General Muhammadu Buhari, was asked how Buhari would fix the economy.
"All that the president (referring to Buhari) has to do is to tackle corruption and insecurity, and that will jumpstart the economy", he said. For about seven years, Fashola had stood like an ebony colossus as the highly performing governor of Lagos. He cut a folk image, even among kindergarten pupils, as the much-loved "action governor". During those years, he worked but left the politics to the Leader, Tinubu, and the rest of the boys. When Fashola spoke, he only addressed governance issues. His insulation from the murk of party politics really shielded his "other side" from the public, but by the time Ambode was being unveiled, Fashola had plunged headlong, thus exposing his "other side", and the rest of it is now madly trending.
Fashola first took that plunge after the June 21st 2014 Ekiti State governorship poll which Mr. Ayo Peter Fayose of the People's Democratic Party (PDP) won. The loser, Governor John Kayode Fayemi, duly congratulated the winner and was ready to leave office like the gentleman he was widely known to be.
But of course, Tinubu his political godfather rallied his party to reject Fayose's victory. Fashola wrote a controversial article on the back page of THISDAY Newspaper on June 30th 2014 entitled: "Ekiti Poll: My Takeaway", in which he propounded the now famous "stomach infrastructure" mantra as the trick Fayose used to "deceive" Ekiti people to reject Fayemi, a man who built castles in the air for them. Fayose, never to be outdone when it comes to political devilry, appointed a Special Adviser on Stomach Infrastructure shortly after his inauguration.
From that moment, Fashola became one of the frontline infantrymen in the APC propaganda machine, which, even after winning the election, has continued to paint the PDP and the governments it produced as horribly corrupt. The APC federal government claims that Buhari is slow to fully set up his government because he is bogged down by the "deep rot" left by sixteen years of PDP rule.
The Governor of Edo State, Comrade Adams Oshiomhole, never to miss an opportunity to be in chummy terms with any president in power, took up the job of town-crier about how the Jonathan administration looted the treasury. Apparently as a reward, he got his request for a $75 million loan "for development" granted. What a pity, all that Governor Rochas Okorocha of Imo State has got so far for promoting Buharimania is a trip to US to shake President Barack Obama's hand and erect billboards to show he was there!
Reworking structure of goverance
It has turned out that Governor Ambode, who has been reworking the structure of governance in Lagos State has apparently been "cleaning the deep rot" from Fashola's regime. Everyday new allegations illustrating alleged corrupt dealings of the Fashola regime are spewed out. They are many, but the most outstanding includes the alleged N78.3 million of public funds spent on setting up the Tundefashola.com website, something that should not take more than N50,000 of his own money which he can eminently afford.
A PUNCH Newspaper report also alleged that N139 million was spent on two boreholes, which should not have cost more than a couple of millions at the most. Another is N640 million spent on reconstruction of a car park in the governor's official residence. The list goes on. If you read or listen to the Tinubu-sponsored media houses and online sites, you will know that Fayemi and Fashola (as well as Senate President Bukola Saraki and Speaker of the House of Representatives, Hon. Yakubu Dogara) have fallen out of favour with Tinubu.
Fashola and Fayemi incurred Tinubu's wrath because they jumped too close to Buhari. Just before and after the general elections, Fayemi had virtually become Buhari's spokesperson. He even "unveiled" the then president-elect's "economic agenda" at a business forum in Lagos. Meanwhile, he was being called an "ingrate" in a Tinubu-sponsored newspaper. Fashola also became almost a second shadow of Buhari during this period, and many photos of them together in a merry mood on their visit to Germany were flashed across the Internet. Fashola was being promoted as the next Attorney General and Minister of Justice for Buhari.
Tinubu obviously detests the idea of his boys jumping out of his hands into Buhari's direct embrace. He sees the danger of his own hold on the APC supreme leader being endangered. Tinubu wants to be Buhari's right hand man in the APC. He wants to be the one to name people from his flank into Buhari's government; a ploy that Fashola and Fayemi were defying by jump straight and direct. Tinubu knows the danger in Fashola, Fayemi and others from his camp openly displaying their direct loyalties to Buhari.
If he allows this to continue, these chaps will later become "Buhari's men in the South West" when a split between Buhari and Tinubu happens. They could become the second Akintola, who broke with Chief Obafemi Awolowo to create an alliance with the Northern People's Congress (NPC) in the First Republic, thus plunging the West into crises. The crises claimed the life of Akintola; and Awo came out of prison to become the civilian "prime minister" of Col. Yakubu Gowon's North-controlled military regime.
Tinubu's camp knows the vulnerability of Fashola and Fayemi in view of Buhari's trumpeted determination to employ only people with unblemished records as ministers and what not. They know that with these allegations making the rounds, it will be scandalous for Buhari to bring these men on board. Any surprise that both Fayemi and Fashola have gone oddly quiet since the heat was turned on them?
The question is: how far can these guys be pushed before they also turn over what they know of their estranged godfather to the media – and the anti-graft bloodhounds? This thing they call POWER, e get as e be o!