BY LAJU IREN & SARAH OFONEDU
Unlike quite a number in the profession, Pst. Antoinette Omo-Osagie always wanted to be a teacher. After abandoning a career path in Business Administration, she found her way back to education and specialized in curriculum development. Now principal at Christ the Redeemers College, Shagamu, she shares her thoughts on the education curriculum, students' performance in examinations, and the need to focus on vocational education. Read on:
"I always wanted to be a teacher. I honestly wanted to b a teacher. When I was younger, I used to conduct lessons and teach all the children in my neighborhood in Yaba. I would bring them to a corner and put pencils in their hand. I think because both my parents were teachers, I fell in love with the profession quite early. In a country like ours, being a teacher isn't something people get excited about.
Most people get into it by accident. I used to be a part time lecturer at Adeniran Ogusanya College of Education, AOCOED. There was a student there who was not quite serious; when I spoke to her she told me that she was there because she did not pass the then Unified Matriculation Examinations, UTME. My father had me study business administration. I always thought there was a divine providence in my life.
While studying business administration at the University of Illinois, they decided to do a test to find out if people were studying what they really needed to study. After the survey, they did the analysis, and people they felt were studying something different from what they needed to study, were sent to different councilors. I was one of them, and my councilor steered me on the right path and made me realize that twenty years down the line, I would be the one stuck with the degree, not my parents. So I made a switch to education and majored in curriculum development.
Based on your experience in the area of curriculum development, what do you think can be done to settle this issue of trial and error curricular in the education sector?
When you work on a curriculum, you should write curriculum materials and then plan to train teachers to follow through with them. But what they do is create the curriculum without materials; so the issue is not with the curriculum but with implementation. For example, there is subject called creative arts, but there is no course in any Nigerian University called Creative Arts education.
There was another challenge when we first started teaching social studies in place of History and Geography at the primary level because that's how it was done in the United States. Same with Civic education, there's no such thing as Civic education at the West African Senior School Certificate Examinations, WASSCE, so it's unfair to the students because it's a dead end.
W
hat do you think can be done to improve students' performance in WASSCE and other qualifying exams?
For the past seven years, students' performance in WASSCE and other qualifying examinations have been going from bad to worse. And I think students, teachers and the government are jointly to blame. I once spoke with an English teacher who could not speak English. We once had a test for people applying to be teachers. We gave them questions from the examinations of our SS2 students and one of them got 14%.
Examination malpractice is quickly becoming the order of the day, parents are encouraging their children to indulge in it because of the craze for University education. But not everyone has to go to the University, the education system was structured in such a way that those who are technically inclined can take the technical/vocational route early enough. Somewhere along the line, Nigerians somehow got it into their heads the idea of free education.
But it's not really like that in advanced countries. It might seem free, but somebody paid for it. In the United States for example, every house in each neighbourhood is taxed. It is from the taxes paid on the houses that the schools are funded. So if you live in a neighbourhood with expensive houses, then your children will get expensive education, but if you live in a neighbourhood with cheap houses, you'll get cheap education.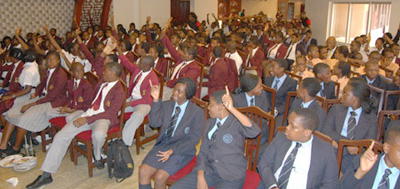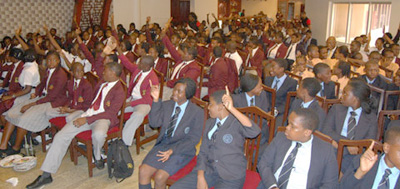 Why many people want quality education, but don't want to pay for it really beats me. Also, the Government still has a lot more to do as regards funding of education because we have a lot of money in this country that is not being channeled in the right direction. One thing that really stands us out at Christ the Redeemers is our involvement in Vocational education. We make sure that every student leaves here with two or more vocational skills.
It's something that our mother in the Lord, Pst (Mrs). Folu Adeboye is very passionate about. Another thing we believe in is raising children who have the fear of the Lord and are strong in character.