The tide appears to have been turned against out-of-contract Super Eagles coach Stephen Keshi, who not only has lost the support of his coaches fraternity but now seems to be enmeshed in an endless waiting game for the NFF to offer him a new deal as reportedly directed by the Presidency.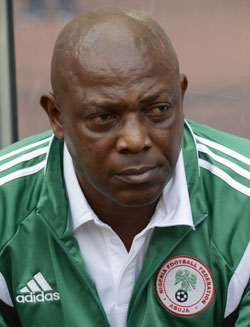 But the NFF only yesterday said that it was still fine tuning certain aspects of the contract.
According to the President of the NFF, Amaju Pinnick, "contracts are not signed overnight and there are factors to be sorted out before you sign.
"We are talking with Keshi but I am not under pressure to employ Keshi, we just want to do the right things to work in harmony," said Pinnick.
Pinnick indicated that the relationship between Keshi and the Nigeria Football Federation has not been strained but added that it would be in nobody's best interests to make a rushed decision.
"We changed our resolve to re-engage Keshi but there are issues to be tidied up in a contract between the two parties.
"We have to look at so many issues like our budget, whether we can accommodate his demands and whether he can work with our technical study group," he added.
As if this was not bad news enough for Keshi, his fellow coaches are not letting up in their push for his disengagement by the NFF.
After attacking the former Eagles captain during the week, Technical Director of the NFF) Amodu Shuaibu yesterday delivered another cut to the head of Keshi, by insisting that the former Eagles captain has taken Nigerian football to ground zero and says there is no team at the moment.
"I'm not sure we have a current Super Eagles after we failed to qualify for the 2015 Africa Cup of Nations. I think we are back to ground zero. I'm not even sure I'm in the right position to speak on this issue because it concerns the management of football in Nigeria, which is the board of the Nigeria Football Federation," Amodu said.
And adding his voice to the trending issue, Adegboye Onigbinde, has revealed that he personally advised Keshi, to walk away about two months back.
"On the very day the presidency asked him to return to his job, I personally sent him an text message to politely thank Mr. President for the offer and bow out honourably and quietly, too.
"Keshi respectfully replied the text message thanking me and that was it. He went ahead with the two remaining 2015 Nations Cup qualifying matches against Congo and South Africa, I'm sure the rest is history.
"I volunteered the advice to Keshi because I understand that he won't work with the presidency but a different set of people as well as an entirely different environment,"said Onigbinde.