By Solomon Nwoke, Warri
The maiden Chief E K Clerk wrestling championship is living up to its billings as another champion was dethroned yesterday in the 72kg female category here in Warri, Delta state.
World number three in the 67kg weight class, Ifeoma Iheanacho representing Imo State was beaten by Private Philomena Nlemeofor from the Directorate of Army Physical Training (DAPT) Zaria attached to the 35 Batallion Nigeria Army.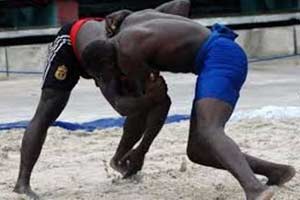 Iheanacho, who is also a National and African Champion was beaten 3-0 and. Pinfall by Private Nlemeofor and by so beaten, Iheanacho was automatically eliminated from the championship.
Speaking on her defeat, Iheanacho told Sports Vanguard that it was a blunder on the part of her coach who did not tell her on time that she would be moving up from her normal weight category to a higher one.
She said her normal weight category for the sport is 67kg while her body weight was 66kg, but was surprised that when she got to the competition venue, she was told to move up to a higher weight category which she did not train for.
" It was a very difficult moment for me, I am so confused. I did not prepare my mind for a higher weight category – 72kg before coming here for the competition. I have been training under 67kg weight class while my body weight is 66kg. It was really disappointing for me here", she sobbed as she spoke to Sports Vanguard.
On the other hand, the solidly built Soldier, Nlemeofor was all smiles as she attribute her feat to the glory of God.
She said," I feel so great beating the World number three champion, I know it was by my power but God's own at least for not training and still meet up. We did not even train for one day, they just called us up for the championship."
I should said that God destined me to be a winner and that's why I am. Inner today and having come this far, I am now going o start the main training as soon as get back to my base".
Reacting to the defeat of the National Champion, President of the Nigerian Wrestling Referees, Usman Yusuf said it was a shocker and disgrace for a World number three to be so defeated by an unknown wrestler. He also said that such development was good for the sport.
"Like I said before, expect more upsets before the end of the championship and, I tell you, we are glad with what is happening here, it shows a sign of good things to come for the federation", he said.
Also, the Technical Director of the wrestling federation, Sir Demian Ohaike was happy with the situation and said that more renowned champions are bound to fall before the end of the competition.
Subscribe for latest Videos