BY PAUL BASSEY
Embattled Super Eagles Coach Stephen Keshi has called for constructive criticism even as he seeks to make it to the next round of the qualifiers next week with a match to spare.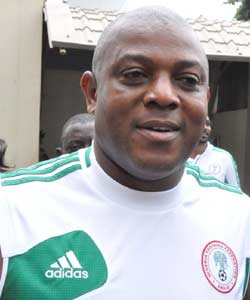 Talking to journalists at the Hotel Le Mada camp of the Eagles after the match, Keshi said it will be very disheartening to have journalists and Nigerians just criticizing for criticizing sake.
We cannot just start criticizing because we want to criticize or because we do not like Keshi or the President of the NFF.
" If your criticism is positive, I will take it. After all I am not God, I am a human being and I do not have all the knowledge in the world.
" I have been told that there are some Nigerians who are not happy that we won today. That they would have wanted us to lose, for whatever reason. I do not want to believe that, but if it is true then it is very unfortunate".
He said he will want to thank all those Nigerians who have been praying and fasting for the team to do well and that they should continue praying.
" If the team qualifies for the world cup, it is not Keshi or Mikel Obi that has qualified, but Nigeria and the glory will go to all of us" he said.
On the team's performance, he said though he would have loved to see the boys scoring more goals, he thanks God for the solitary strike that was just enough to shoot us to the top of the table.
" I am very satisfied with the performance of the team. Kenya was difficult at home, yet we triumphed. You could see the boys giving their all.
They were very determined and played for each other. They deserve commendation today" he said.