By Douglas Anele
Hence, if members of any other ethnic nationality living in defunct Eastern region were murdered with reckless abandon by Ndigbo, as the latter were killed in 1966, the murderers deserve punishment and the victims have a right to defend themselves.
The same criticism of Chief Awolowo by Achebe applies with equal force against any prominent Igbo politician that advocates starvation as a weapon of war against another ethnic group. How would Opadokun and other irascible Awoists have responded if the situation was reversed?
For instance, supposing that the Yoruba were massacred the way Nidigbo were massacred just before the war and had to fight a bitter battle of survival against the rest of Nigeria; in addition, supposing that forty-one years later Prof. Wole Soyinka, one of the best dramatists to emerge from Africa, wrote a memoir which, apart from detailing injustices perpetrated by the victorious Nigerian side against his people, also scathingly criticised Dr. Nnamdi Azikiwe for supporting and implementing the policy of starvation against the Yoruba? Opadokun and co.would have hailed the literary icon as "a true Yoruba son and courageous defender of truth."
Speaking about Soyinka and the civil war, Achabe reported that,among non-Igbo scholars and academics who were Achebe's contemporaries emerging in the literary firmament of mid-1950s, he was the only one bold enough to speak out against the atrocities committed against Biafrans. Others believed that the Igbo deserved what was coming to them!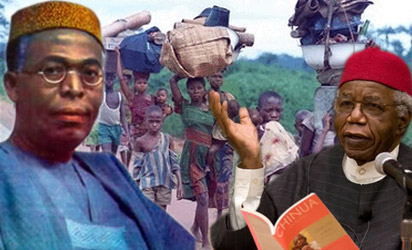 In a nutshell, then, despite all the hot air generated by Awoists, as long as Awolowo himself defended starvation as a legitimate weapon of war, he cannot be exonerated from the agonies and deaths which resulted from the implementation of that misanthropic policy by a government of which he was a prominent member.
Yet, it must be admitted that serious misjudgments by Biafran leaders which stem from hasty overweening ambition and egoism not only gave Gowon and his cohorts an excuse to wage war against the Eastern regionbut also aggravated the problem of ill-preparation.
Some perceptive writers on the Biafran conflictallude to Ojukwu's elephantine ambition and rashness, and to the corruption, in-fighting and treachery of prominent Biafrans which fatally sabotaged the war effort. But it must be acknowledged that, despite his flaws,the late Biafran head of state was strongly motivated by the desire to provide leadership and succour for his people traumatised by the senseless massacre of their kith and kin in the North.
After all, he could have quit the army (which, at that time, according to Domkat Bali, was for school drop-outs) and joined his father's expansive business empire. Furthermore, majority of prominent Biafran officials, scholars, scientists and the general population sacrificed a lot during the war in a genuine effort to actualise the Biafran dream.
Even so, in the hysteria and anxiety of a people brutalised by fellow compatriots for no good reason, war-mongering enthusiasm overwhelmed cool passion needed for strategic and effective preparations for war, which waslegitimised by Gowon's unwillingness to bring some semblance of closure to the aggrieved Igbo by ensuring that the ring leaders of the pogrom were sanctioned according to law.
Critics of Achebe's war memoir conveniently ignore the factthat it was the Nigerian army, not the short-lived Biafran military, that fired the first shots in May, 1967, which triggered what Gowon disingenuously described as a police action. Shifting focus now to Achebe's laudatory comments concerning late Mallam Aminu Kano, It is very probable that the famous novelist was misled by the latter's simple lifestyle and public solicitude for the talakawas.
Achebe, both in his Trouble with Nigeria and biography documented by late Prof. Ezenwa Ohaeto, voiced his admiration for Aminu Kano. Probably that was why, in the Second Republic, he joined the Peoples Redemption Party (PRP) headed by the deceased politician. Perhaps Achebe would have been more circumspect if he had read and verified Iloegbunam's account, in Ironside, of Aminu Kano's complicity in the pogrom of 1966 against Ndigbo.
Clearly, if it is indeed true that Aminu Kano actively supported the pogrom, then Achebe's remarks in his biography that, at a conference in Kampala, Uganda, the talakawa spokesman was looking "so distressed," and was "calm and in pain" must be critically interrogated.
It appears that Achebe mistakenly thought that Aminu Kano's pensive demeanour during the meeting was a genuine expression of concern for suffering Biafrans. But it is more probable, given Illoegbunam's narrative, that the man was suffering the torments of guilty conscience for helping to organise the mass killings of Ndigbo. No human being, except misanthropes completely bereft of conscience and humane feeling, can participate in the willful murder of innocent people without suffering some degree of emotional disturbance.
Indeed, I believe that Aminu Kano was not the only prominent Northerner who took part in the 1966 pogrom that experienced some degree of psychological disequilibrium for involvement in the sad event. The few that are still alive will continue to suffer the interior pain of mass murder until death.
The lesson from all this is that collective hatred of a people by another never yields any positive result; its horrible consequences may take decades,sometimes centuries, before they can be overcome. I now want to address the tendency of some Ndigbo to blame the poor developmental record in Igboland even up to this time solely on thewar. There is no doubt that the conflict was very devastating to the evolutionary and revolutionary progression of Igboland.
One just needs to remember that by the mid-1960s, Eastern Nigeria had one of the fastest growing economies in the world. Before the civil war, Ndigbo were at the commanding heights of the military, formal and informal economy, academia, etc. Not surprisingly, the situation changed dramatically for the worse after the war. It is more than forty years the war ended. So, we should stop using it as an excuse for lack of solid development in most parts of Igboland today.
Of course, the vicissitudes of survival have to some extent corroded the virtues of industry, hard work, honesty, indomitable entrepreneurial spirit, creativity and communitarianism which made Nidigbo the primus inter pares among compatriots from other ethnic nationalities.
However, political leaders that have emerged from Igboland since 1970, collectively, are a complete disgrace to the people. With few exceptions, such as late Chief Sam Mbakwe, Sir Francis Akanu Ibiam, Dr. Alex Ekwueme and few others, the rest are small-minded agbata ekee money mongers solely interested in primitive accumulation. In a future essay I will clinically dissect the various ways prominent Igbo sons and daughters, through avarice and selfishness, have been pauperising the people for years.
CONCLUDED.