LONDON  (AFP) – British police said Tuesday they had no plans to continue enquiries into a complaint regarding alleged racist comments by referee Mark Clattenburg towards a Chelsea player because no victim had come forward.
The Society of Black Lawyers reported Clattenburg to London's Metropolitan Police after Chelsea complained to the Football Association the referee used a term understood to have been interpreted as racist towards John Obi Mikel during the 3-2 Premier League defeat by Manchester United on October 28.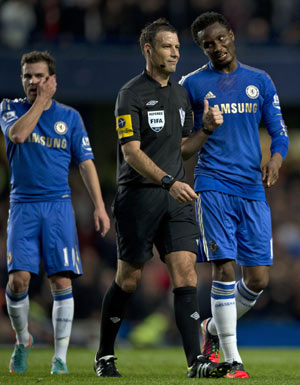 While the FA enquiry is continuing, a police statement said, from their perspective, "the matter cannot currently be investigated".
"An investigation was launched into alleged comments made during a football match between Chelsea FC and Manchester United FC at Stamford Bridge on 28 October 2012," the statement said.
"This follows on from a complaint received by the Metropolitan Police Service on 29 October.
"Enquires were made and no victims have come forward. The matter will remain as a recorded incident.
"Without a victim and/or any evidence that any offence has been committed, the matter cannot currently be investigated."
However, the statement added police could look again at the incident.
"If the situation changes and a victim and/or evidence to support an allegation of a crime comes to police attention then further enquiries will if appropriate be made," it read.
It was announced Monday that Clattenburg would miss another round of Premier League matches — the third successive weekend since Chelsea made their complaint that football chiefs have felt it best to keep the 37-year-old official out of the firing line
Chelsea chairman defends Clattenburg stance
Chelsea chairman Bruce Buck hit back Tuesday at criticism of the club and insisted the European champions were not hypocrites for backing captain John Terry while lodging a complaint against referee Mark Clattenburg.
Buck said the London club had a "duty of care" in supporting Terry, who recently completed a four-game domestic ban for racially abusing QPR defender Anton Ferdinand in a match last year.
In a separate incident, the Football Association are investigating allegations from Chelsea that Clatenburg used a term understood to have been interpreted as racist towards John Obi Mikel during the Premier League match against Manchester United on October 28.
Buck said Chelsea would have been "crucified" if they had not reported the allegations concerning Clattenburg, now also the subject of police enquiries following a separate complaint by the Society of Black Lawyers.
"Suppose we had tried to sweep this under the rug and said to the various players, 'Look, it's not a big deal and the press are going to be all over us, maybe you want to reconsider'," Buck told Tuesday's London Evening Standard.
"If that had leaked out, we would've really been crucified," added the American lawyer, who often acts as the public face of a Chelsea administration ultimately controlled by the club's Russian billionaire owner Roman Abramovich.
Buck added: "The press seem to juxtapose 'our support' of John Terry and what's going on here and looking at us as being a bit hypocritical. We have to divorce the John Terry situation from this.
"From our perspective, the latest situation was pretty straightforward. We have an obligation to report what may be misconduct. We did that, in good faith and not maliciously."
Meanwhile Buck refuted oft repeated suggestions that Terry, who has been involved in a number of high-profile incidents, 'ran' Chelsea.
"We have a duty of care to John Terry in loco parentis. Not that, if he did something wrong, we weren't going to say he didn't do anything wrong. But we have to support him as a person. That's different from saying that, no matter what Terry does, we approve.
"Chelsea are not run by John Terry. I don't know how I can prove it to you but it's not true. My club is run by Roman Abramovich."
Buck stressed Chelsea's action against Clattenburg was not related to the referee's decisions during a 3-2 defeat by United and that FA guidelines and employment law obliged them to follow through with the complaint.
Meanwhile, Chelsea chief executive Ron Gourlay admitted Chelsea, who last week announced a £1.4 million profit, would have been facing another major loss had they not won the Champions League.
He said: "You don't budget to win the Champions League every year and we were looking down the barrel of the Europa League.
"We don't ever want to find ourselves in that situation again. The financial difference between the two competitions is vast."
.