By Fatima Garba
Valentine's Day is one of the most romantic days in a year. So it is natural that each one of us wish to celebrate this day uniquely. But the question arises as to how to celebrate this wonderful day in a special way. Your Valentine's Day must be remarkable and should leave an unforgettable impression in the mind of your beloved. Use your own romantic and thoughtful ideas for creating a unique Valentine's day celebration. There are ample valentine ideas and tips but the first and foremost thing to be kept in mind is to create the love ambience around you and your beloved. Your valentine day gift to your beloved need not be expensive but it should be straight from the heart.
Romantic dinner
Material Gifts are not the only things you can give, there could be better options. Plan out a special dinner with your sweetheart. It could be a candlelight or an open-air. But it has to be special in someway, otherwise the charm will be lost. If you do not have option of making it special, plan for some sort of surprise that you can give right after the dinner.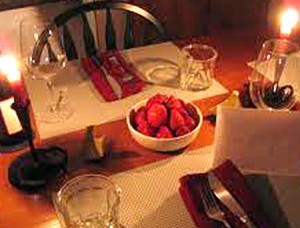 Perfume
When you are considering buying perfume it is important you know her favorite one or that you know what scents she prefers. When you are in doubt it is best to buy her a popular brand of perfume .
Spa gifts
Show her that you're looking out for her by giving her a treatment package from a local spa, or get one for the two of you to experience together. Either way, you'll make her feel fresh
and sexy— this gift is straight from the heart.
Flowers
Sending flowers is certainly one of the most special ways to brighten up someone's day and if it is Valentines Day it doubles up the joy. Different flowers convey different meanings and messages. This makes the exchange of flowers more romantic and meaningful. Flowers have the power to convey what can't be explained by words. So choose the one, which expresses your love in the best possible way!
Jewelry
This gift can be bought on a budget or you can make it very expensive. Most women don't expect
you to spend a large amount for a Valentine's Day gift. It is easy to find original Valentine's Day jewelry. A necklace or earrings with her birth stone can be found in a price for every budget. You may want to consider a locket of you both in it? When you want to spend a little more, you can purchase expensive jewelry you might want to consider buying diamonds with a heart "the real symbol of Valentine's day.
Box of chocolate and sweets
Giving a chocolate gift is an expression of love that will surely melt your lovers heart. For valentines day chocolates come in wonderful shapes and packings. For an eye catching look, chocolates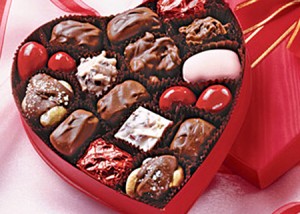 come in many interesting shapes like heart, star, cupid and many more. They are also placed in decorated baskets accented with ribbons and shimmering paper along other items like teddy bears and cards' heart shape chocolate gift box when received at doorsteps will definitely leave the recipient speechless.