By Taiye Obateru
Hon. Damishi Sango, former Sports Minister  and PDP governorship aspirant in Plateau State believes that contrary to what   some say, incumbent Governor Jonah Jang has not lived up to expectations.
He spoke on the things he would do differently should he become governor come 2011 in this  interview: Excerpts :
You   have been in the governorship race since 1999 and some are wondering why your   interest in the position has not waned after failed attempts?
I am grateful to God for the gift of life and the privilege to be available for service to my state. You will recall that I made myself   available for the 1999, 2003 and 2007 elections and, in each case, in spite   of the overwhelming sympathy and support we had, certain factors came into   play which have also contributed in part to our being at this point as a   people and as a state.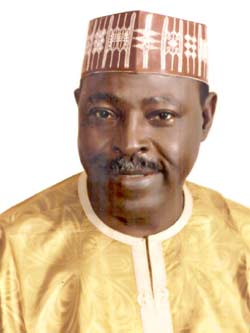 I am making myself available again conscious of the   fact that God is the one who gives power and he gives it to whoever he deems   fit for a people at a given time. Our people have had to wander in the   wilderness of politics and development as a necessary experience to reach the promised land. Now is the time to move on and so am offering myself again.
Also, recognizing the realities today, the mood of the people of   Plateau State and reading the times, it is easy to say with confidence that   the time has come for  Plateau State to   move forward. It is time we gave peace a chance.
It is time we prepared the   kind of future we dreamed of for ourselves and our children. It is time for   Plateau to rise again, to be proud and prosperous. I am coming out again to   offer the leadership that our people need and deserve; a leadership that   champions participation in governance for all.
There are those who claim that the   incumbent governor is doing well and should be allowed to continue for a   second term to consolidate on his achievements. What is your comment on this?
As I   have pointed out, a governor is elected to offer leadership in the provision   of vital  social services   and infrastructure for the people, enhance the security of lives and property, give hope to the people.   If what we have seen of the governor's performance is anything to go by, he   has failed.
If he wants four more years, the question people are asking is   four more years of what? More insecurity and permanent militarization of the   state? More mass failure in WAEC/NECO because government has abandoned   education? More collapse of the health system? More collapse in commerce?
More of jingles on 10-point agenda that has failed? More of what? If Jang has   not been able to deliver on the 10-Point Agenda he promised Plateau people, the people expect him to honourably step aside.
What are those things you would do differently from what the present governor is doing if you emerge?
If I emerge as the candidate in PDP and I am   voted in as Governor, We intend to immediately ensure that peace   is restored to the state, the military checkpoints are removed and people are   able to move about freely and live happily in any part of the   state.
This we will do by adopting a participatory approach to   governance. We will also carry all stakeholders in the Plateau Project   along and listen to advice from well meaning statesmen, leaders and my predecessors. We also plan to provide free and qualitative education in all public schools in the state and ensure high standards and strict supervision
of services provided by all private schools. One   of our flag ship programs will be the establishment of model schools in   various parts of the state based on the highest global standards. Our tertiary institutions will be overhauled   and their standards improved upon.
We will focus also on the provision   affordable and qualitative healthcare for the people. A special program of   free healthcare for children under-5 and the aged will be introduced. We intend   to revolutionize the agriculture sub-sector through the restoration of   Extension Services and Pilot Farm Scheme. Also, a new scheme to be   called Farm Communes Services will be introduced while   vigorously implementing a Farm to market program.
Tourism  will also receive a boost as we implement a robust strategy to return Plateau   State to the No.1 position as a tourist destination. Youth and Sports development, women empowerment, job creation and job security are areas we also have plans to make a difference.
I assure you, Plateau will be transformed during   my tenure by the grace of God. I repeat as I said at my declaration, this is not the   Plateau we dreamed of and is not the Plateau we want to leave for our   children, I share our dreams as a people and I will ensure our pride as a people is restored.
Many people were surprised at the presence  of prominent fellow governorship aspirants in your party the PDP at your declaration. What does this portend?
It was a National record set by politicians in Plateau State to prove the possibilities that there are for Plateau to be great again. It was a   statement that the people are tired of the pains of the last three and a half   years. It was a symbolic gesture to show we are all together and whoever among us is preferred to become the leader, all of us will join hands and work with him.
The PDP in Plateau State has been in one crisis or the other since 1999. What is the problem this time and why is it difficult for the party to move as one?
I think the problem has to do with the style of the   governor. The leadership of the state as represented by the governor is   supposed to take a stand on the side of the people, common sense and peace.
Everyone   must play his or her part for peace to return to PDP by coming together to   make sure that the right thing is done. God will not come down to do it. Some   of us think the solution is simple but it appears the governor and his team   thinks there is some gain in creating confusion as their recent actions show.
All we are saying is that congresses were not held in Plateau as stipulated   by law and so we should follow the right path as advised by INEC.
Two, there are so many returnees to the party that will be totally excluded from the party and denied the right to contest for offices   if congresses are not held. Three, our position in support of congresses does   not exclude the governor and his team from participating but the governor's option of holding on to the illegal structure excludes everyone else.
Four,   failure to hearken to INEC's advice will have grave consequences for the   party in Plateau State because INEC has threatened it will exclude the party   from the ballot paper in states where congresses were not properly conducted.   That is precisely why Imo State PDP took the wise path of conducting its congresses.
I think the governor needs to calm down, listen to the voice of   reason, take side with the people and obey the law of the land by supporting   congresses in Plateau State PDP. If he remains intransigent, it will mean he   does not wish the party well and probably has other plans as is already being  rumored.
Don't you see this intra_party disagreement as a threat to her chances in the elections?
Not at all. The will of the people will prevail and the   rule of law will have its way. The crisis will be resolved positively by the   grace of God. We will have a new PDP in which everyone is carried along and   the party will win in the forthcoming elections. It is just a matter of time.
How  far can the opposition to Jang within the PDP go given the number of aspirants on your side?
As I explained earlier, the consensus arrangement became necessary for saving Plateau State from this drift, confusion, crises and   misery which, we believe, cannot be left to an individual. It has to be a   collective project.
We are working together on a consensus arrangement in   order to drive home the point that, as Plateau people we are capable of   cooperating and working together for the progress of the state.
The   government that will be put in place by the people of Plateau State in 2011   will be a government that is truly of the people, by the people and for the   people to God's glory. Gone are the days of one_man rule and dictatorship under the guise of democracy.
It is this determination that made it possible for   other aspirants to attend my recent declaration to contest and spoke with one   voice. It is the first time such a thing has happened in the politics of  Plateau State and Nigeria and it is worthy of note to all those interested in the well-being of Plateau State that all of us (aspirants) except Jang, are   together.
It is the same spirit that made it possible for 15 members of the state   House of Assembly (out of 24) to attend and give a solidarity message on what our group is doing.
All of us are working on the consensus arrangement and   hope to work with whoever God decides should lead us in the race.
How can Plateau State know peace again   given the damage frequent crisis has done to relationship among the people?
Simply, we will put the machinery on ground for collective   and participatory governance. We will be sincere with the people and in our   handling of issues we will open dialogue between various divides and close the   communication gap that exists.
We will ensure that each person gets what is   his due and respects his neighbor; we will end the era of parochial and sectional governance where government takes sides unnecessarily in conflict   situations rather than serve as a peace maker and peace enforcer.
We will   stand for justice and the rule of law. I believe that these basic steps will   bring about the confidence building required for our collective success. The truth is, everyone is tired of the present state of   Plateau State and prays for the restoration of peace in the state so that we   can advance to our destiny as a state.
No one is happy that we have had   soldiers on our streets and military check-points on almost all streets and   roads in the state for more than three years! Natives and non-natives no   longer feel safe in the state. No one can witness or evangelize anymore   (whether Christian or Muslim) because no one is shining the light for evangelization or conversion to be meaningful.
The cord that holds community   life together is broken and decay has set in. It is simply the failure of   leadership and it is unacceptable. We will, by the grace of God, reverse this   when voted into office in 2011.
Why do you intend to spend just a term if you become governor as you said during your declaration?
I am a man of honor and wish to repeat my pledge to run for a single term of four years only if voted into office as governor of Plateau   State. Our complexities in Plateau state require this measure.
I am confident   that with the crack team of intelligent and experienced persons in our team   and the larger Plateau family that has so far been marginalized, we are capable of achieving major landmarks within our first two years in office and   use the last two years to consolidate and prepare a solid path for the   irreversible development of Plateau State as Lagos state has proved.
Who   would have believed that Lagos state, with all the challenges it faced, could   turn things around in just two years and become the model for other   governors? Indeed, even Governor Jang, despite his experience as governor in   two states (Benue and Gongola) said he wanted to go for tutorials from   Governor Fashola who never governed a state before!
If Fashola could do it in   Lagos within two years, we will mobilize all of Plateau's human resources   from all ethnic groups, political parties, religions and LGAs to achieve a   greater feat within the same period of two years by the grace of God. I   assure you that I will take a dignified bow after four years and wish my   successor well.
One major achievement of the Jang Administration which people are quick to mention is in the area   of road construction. Do you see yourself matching him should you take over   from him?
Roads construction is good and,   although his focus on it is skewed and partial, it is a good achievement; but   that was not all that the people voted him into office to do. It is amazing   that after four years, all that a government can show to its people who are   faced with unending crises, debilitating hunger, avoidable deaths and   diseases, insecurity, illiteracy, collapse in commerce and industry, decay in   tourism, abject poverty, job insecurity, unemployment, chaotic   transportation, rising crime wave, religious bigotry, ethnic chauvinism, is   roads, roads, roads and roads.