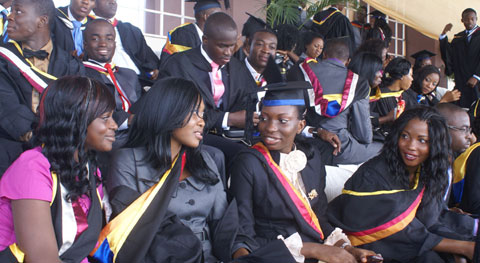 By Emmanuel Edukugho
Babcock University, Ilishan, Ogun State held its 8th convocation ceremony recently in which 899 graduands were conferred with various degrees out of which 641 were ready to go and 258 summer graduates.
There were 29 First Classes, 586 second Upper Division and 26 second Lower Division.
Professor Kayode Makinde, the Vice-Chancellor, said at the event that Babcock is gradually ascending the height of its dreams and mission training the trainers, leading the leaders.
"This is an unbroken tradition we have faithfully kept since this institution attained the status of a University in 1999. This year for the first time, the university mustered the willpower with God's enablement, to apply its long-resisted regulation requiring a "C"grade minimum in any core or required course through divine inspiration, we have set apart the first Sunday of June each year as a day we celebrate our high achievers – you parents, students, servant leaders for a new generation of Nigerians in the world."
He titled his address "The Audacity of knowledge: Private Universities
As 'Agents provocateurs for African Development," saying that while many rich and powerful people are in reality subjected to a morbid existence of mental and emotional bondage and servitude, it is ironical that from the bowels of Robben Islands the Mandelas of this world dictated the course of world history and impacted its destiny.
"Knowledge indeed is power, the power to be and to do, to make a difference. Knowledge is the insatiable commodity which abundance was enshrined in Nigeria with the 1999 rebirth of hope heralded by the approval of private universities to revitalize, reorientate and redeem the hitherto morbund Nigerian educational."
Makinde recalled that as for any daring innovation within a myopic traditional colonial enclave like Nigeria, private universities were the joke of the public university campuses until things fell apart again and the children of state and federal university professors and administrators constituted the majority of private university enrolment.
"What an irony that in ten short years in which the bars of educational entrepreneurship were raised at the level of productivity and accountability, new standards set and healthy competition introduced into a hitherto "sellers market," riddled with crying wastages and redundancy, what used to be derisively ridiculed as "glorified secondary schools" is now labeled "elitist" by the same defensively critical assortment of skeptics in the national intelligentia."
The Babcock Vice-Chancellor likened the situation to that of Barack Obama who was written off as insignificant before his "audacity of hope" transformed this childhood dreams of ruling the world into reality only for his critics to turn around and accuse him for arrogant elitism.
His words:
"We believe in the "project Nigeria" for which, like Babcock, failure is simply NOT an option. That is why we keep innovating, mobilizing, net-working nationally and internationally. The job description of any chief executive officer of a University that will not only survive but impact and transcend the 21st century must go beyond managing of resources on ground at his or her inauguration but to dream new dreams and channel innovative pathways to resources generation, accumulation and multiplication."
He stated that Babcock University has continued to impact the world through the influenced of young men and women trained to be citizens of excellence.
According to Makinde, the Babcock brand has gained so much public confidence and has become a national benchmark for excellence and stability. On how private universities have survived:
"Without any subvention or grant from government, private universities rely heavily on tuition, internally generated funds and donations from lovers of education to meet their running expenditures. As a result, not many people have been encouraged to take up this initiative while a lot of those who enthusiastically rushed in  for the name or anticipated profit are now stranded midway into operational, structural and systemic bankruptcy.
He said as a pioneer private university in Nigeria, Babcock has been battling with her own share of these challenges.
He disclosed that the university is recording significant growth in her finances. From a balance sheet of N356m at take off and N1.8bn at the inception of this Administration in 2006, "we have grown to N6.86bn in 2010,"adding, "we partner with our parents and other stakeholders to bring up the best facilities in the nation in favour of learning and research."
Makinde congratulated all the Sapphire Graduating class 2010 for the academic achievements which are being recognised in the  conferring of the degrees.
"This is the reward for all that you have endured the long hours of study, apprehension as the assignment deadlines approached, the frustration of being unable to locate research materials and the sleepless nights before the examinations."