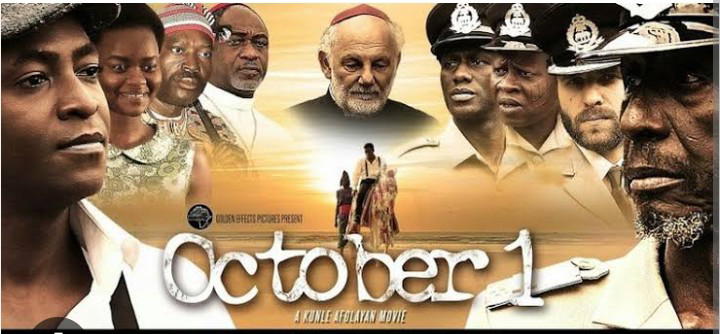 By Enitan Abdultawab
October 1st is Nigeria Independence day celebration and Nigerians across all states commemorate the epochal landmark.
The nation has been under the reins of the British government from her inception until the later months of 1960 and eventually gained independence in the early hours of October 1st, 1960.
However, Nollywood has contributed to rewriting the Nigerian history before and after independence which was largely characterised by military coups.
Let's take a look at them.
October 1st
The events in this Kunle Afolayan-directed historical drama unfolded just before Nigeria's Independence day.
In the movie, there is a pressing need for Inspector Danladi to unravel a communal crisis of killings of women in a rural town.
October 1 continues to play a significant role in Nigerian cinema. It conveys us back to colonial times and does not fail to avoid the social ill of rape.
Saworo Ide
Saworo Ide perfectly chronicles how bad governance and poor policy making spurs into multiple coups. In the movie, a military leader leads a coup to unseat a sitting leader.
In the 1999 film, notable actors such as Kola Oyewo, Bukky Wright, Lere Paimo, Larinde Akinleye, and Peter Fatomilola take on prominent roles.
Tunde Kelani's imaginative genius gives rise to a compelling movie that underscores the significance of democracy, effective governance, and community involvement in the decision-making process.
Furthermore, the film delves into subjects like corruption, oppression, and the quest for political authority.
'76
In the backdrop of the chaotic period following Nigeria's independence, this 2016 movie narrates the tale of a youthful soldier who faces allegations of conspiring to overthrow the government.
Ramsey Nouah assumes the character of Joseph Dewa, a young soldier whose innocence hinges on his spouse, Suzie (played by Rita Dominic).
The film "76" offers a unique portrayal of leadership during that era and delves into the issue of inter-tribal prejudice.
Madam President
This movie sets Ireti Doyle as the main character in person of Mrs. Tabi Johnson, a woman entangled in the intricate realm of politics. As the vice president of the fictional nation of Bangidi, she suffers stiff opposition from fellow high-ranking officials who plot to take control by assassinating the president.
However, the unexpected turn of events thrusts her into the role of president, highlighting a stark difference from the Nigerian political landscape, where, even fifty years after the nation's independence, a female candidate from a major political party has not yet run for the presidency.
The Black Book
The flashback in the movie opens up into the account of how military leaders fared years into the Nigeria independence. The Black Book is a movie which highlights Richard Mofe-Damijo as the lead character.
The Black Book satires high-chief offices of the Nigerian military body who use their positions to peddle hard drugs when it was introduced into some parts of Africa in the late 19's.