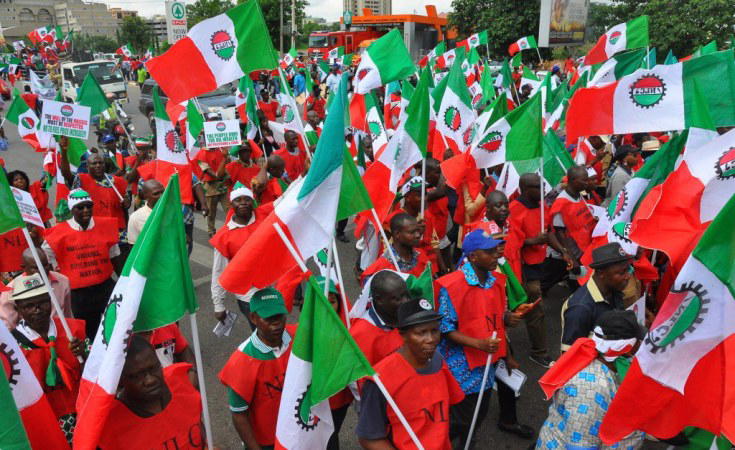 …directs affiliate unions, state councils to commence mobilisation
By Johnbosco Agbakwuru, Abuja
The Nigeria Labour Congress, NLC, on Friday, asked President Bola Tinubu to direct the Nigerian National Petroleum Company Limited, NNPCL, to revert to the old pump prices of Premium Motor Spirit, PMS, also known as petrol or face industrial action.
NLC gave the NNPCL till Wednesday to return to the old price of N194 per litre or it would direct its members to withdraw their services nationwide.
This is as the Labour centre has directed all its affiliates unions and state councils to commence mobilisation in case the government through the NNPCL refuses to revert to the old pump price of PMS.
Briefing journalists after its extensive National Executive Council, NEC, meeting in Abuja, President of NLC, Joe Ajaero noted with regret that NNPCL on Wednesday jerked up the pump prices of PMS by over 200 per cent bringing the price of fuel to between N488 and N557 per litre.
Ajaero said after an unanimous decision of all NLC affiliates, unions were directed to commence mobilisation immediately ahead of the planned nationwide protest.
According to him, "The NLC decided that if by Wednesday next week the NNPCL, a private limited liability company, that illegally announced a price regime in the oil sector, refuses to announce revert itself for negotiation to continue, that the NLC and all its affiliates, will withdraw their services and commence protests nationwide until this is complied with.
"The NNPCL doesn't have the monopoly to act illegally even as a private company. The NLC NEC therefore directed all state councils and all industrial unions to commence mobilisation from this moment to make sure that this action is enforced. The action has commenced at this moment.
He also called for a probe of the subsidy regime in the past eight years, the amount paid on subsidy and the beneficiaries of the payment.
The labour leader also urged the NNPCL to ensure a proper account of the amount of petroleum products Nigerians consume daily.
He accused the NNPCL of refusing to disclosed beneficiaries of subsidy and landing cost of petroleum products.
He said: "The Nigeria Labour Congress is calling for a thorough probe in the process of subsidy to know those involved and the amount involved. Investigate it properly before it is swept under the carpet.
"The current attempt to sweep the fraudulent practices in the subsidy regime should not be tolerated by all well-meaning Nigerians.
Recall that President Bola Tinubu after taking the oath of office as the 16th President in his inaugural speech on May 29, announced that fuel subsidy is gone.
The announcement has triggered hike in the fuel pump price less than 24 hours after the announcement and it has also caused more economic hardship to Nigerians.
The announcement has attracted the ire of the organised labour.
A meeting with the federal government team and organised labour on Wednesday ended in a deadlock.
Both parties are however expected to resume negotiations on Sunday.