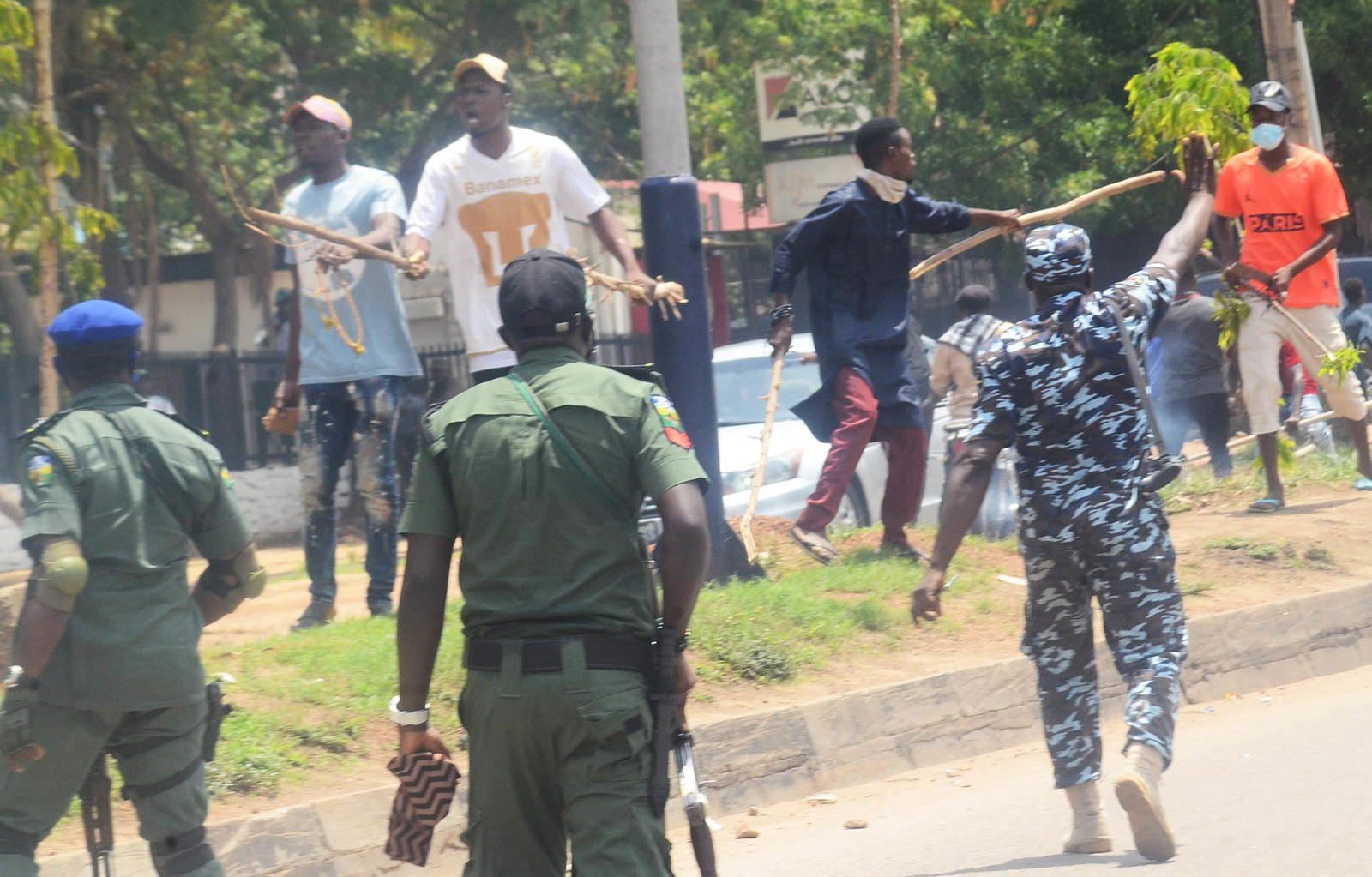 Pic.13. Armed thugs come face-to-face with security men as they attack Nigeria Labor Congress (NLC) protesters in Kaduna disrupting their procession, at NEPA Round About on Ahmadu Bello Way on Tuesday (18/5/21). 02236/18/5/2021/Ibrahim Bashir/BJO/NAN
By Dennis Agbo
No less than 10 armed thugs were on Sunday rounded up by the men of Nigeria Army in Isi-Uzo local government council guest house at Ikem, Enugu state.
The thugs were allegedly stationed in the guest house by the local government council chairman, Obiora Obeagu, for the purposes of the March 18 Governorship, Senate and House of Assembly elections in Enugu East Senatorial zone.
The armed men were said to have been imported from Aguleri in Anambra state and quartered in the guest house waiting to unleash mayhem in the area on the day of the election.
They were were however rounded up by the army following an intelligent report and their guns that reportedly included AK-47 and Pump Actions were confiscated by the security personnel and submitted to the Isi-Uzo Divisional Police station at Ikem.
The Chairman of Isi-uzo Local government council, Obeagu, however failed to react to the message sent to him for confirmation.
Natives of Ikem community, however said the arrests was true and were worried that the council area was being turned into a war zone became the Governorship candidate of the Labour Party, LP, Hon. Chijioke Edeoga, hailed from the council area.
A Lawyer, Mr. Onyeka Odoh said: "We were at the police station when the thugs were brought to the police station in Ikem, but the army did not allow us come close."
The Enugu State Police Public Relations Officer, Daniel Ndukwe as usual failed to respond to message sent to him and also failed to pick his call for confirmation.