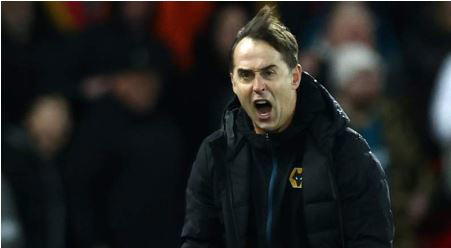 Wolverhampton Wanderers boss Julen Lopetegui says it is "impossible" that his side had a winning goal ruled out in their FA Cup third-round draw with Liverpool at Anfield.
Centre-back Toti flicked home, but the assistant referee had his flag up for offside against Matheus Nunes, who had taken the original corner and picked up the ball on the left after Hwang Hee-chan nudged it back to the wing.
The video assistant referee (VAR) had no camera angle available to provide any evidence to overturn the decision, meaning Wolves had to settle for a 2-2 draw.
Read Also: Liverpool's Virgil van Dijk out with hamstring injury
Lopetegui, who went into referee Andrew Madley's room with captain Ruben Neves after the game, said the offside "doesn't exist" and that it was a "pity" because his players "deserved to pass to the next round".
He was also angry that Mohamed Salah's goal, which put Liverpool 2-1 ahead, was allowed to stand, despite the Egypt forward appearing to be in an offside position when the ball was played to him during the build-up.
What happened
Starting with Wolves' disallowed goal, Nunes took a corner that was headed by Nathan Collins, and then flicked by Hwang back to Nunes on the left wing.
He dribbled to the byline, and his cross was deflected to Hwang, whose shot was turned in by Toti to put Wolves, who had led 1-0 before being pegged back, 3-2 up.
The Wolves players celebrated wildly, with Toti taking his shirt off, but the assistant had his flag up.
The VAR then reviewed the incident, but had no clear camera angle to overturn the decision.
Speaking to ITV, Lopetegui said: "We have seen it, the offside doesn't exist, I'm sorry. It's impossible.
"Someone has told him it's offside, but we've seen the images, it doesn't exist.
"The decision is wrong. I make mistakes every day, and sometimes they do too. Today we have the help of VAR, and it is a pity, because I'm sorry, it's not offside."
The rules
Both incidents centre around when a new phase of play starts, and what is a deliberate action.
According to Law 11 in the FA's rules: "A player in an offside position receiving the ball from an opponent who deliberately plays the ball, including by deliberate handball, is not considered to have gained an advantage, unless it was a deliberate save by any opponent.
"A 'save' is when a player stops, or attempts to stop, a ball which is going into or very close to the goal with any part of the body except the hands/arms (unless the goalkeeper within the penalty area)."
The assistant referee believed Nunes was offside when Hwang headed the ball – which started a new phase of play – and VAR had no clear evidence to overturn that decision.
Salah's goal was not ruled out as a result of Toti's header, which started a new phase of play. BBC