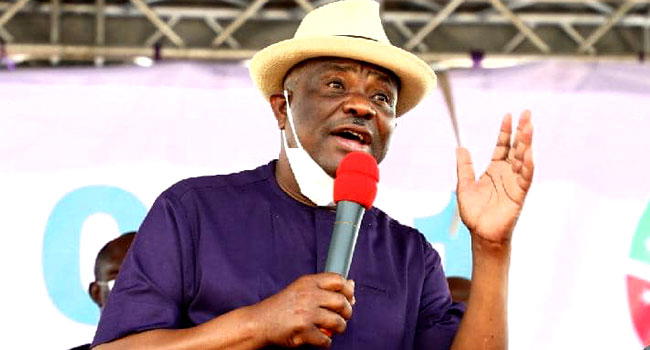 By Donu Kogbara
THE nation is heading towards primaries at which every political party will select its presidential candidate (the Independent National Electoral Commission – INEC – has decreed that this selection process must be completed by early June).
Last week, I focused on the most senior presidential hopeful, Vice President Yemi Osinbajo (who had been unfairly accused of Pentecostal Christian bigotry). In the next six weeks or so, I will focus on some of the other high-profile aspirants, starting today with the Governor of my home state, Rivers, Chief Nyesom Wike.
Last year, I praised Wike's Value Added Tax, VAT, protest on this page. As far as I am concerned, that was his best ever move. And I decided to informally interview a handful of people who are supporting Wike's presidential bid when I went to Port Harcourt for the Easter weekend; and I assumed that they would agree with me. But none of the Wike fans I spoke to in Port Harcourt last weekend displayed any interest whatsoever in the VAT matter or any policy issue. They also did not display much interest in his construction projects (he is famed for having erected a number of flyovers).
I didn't speak to many people last weekend, but I was struck by the fact that they all made similar comments and told me that they are doggedly following Wike because he is a straight-talking "tough guy" and "action governor" who "won't take nonsense from anyone" and will "deal with Fulanis" when (not if!) he wins the 2023 election.
Wike may not have set out to become a local champion and Trumpian populist. But that is how he is coming across within certain contexts – ie, as a gifted demagogue whose acolytes are motivated by an unshakeable belief that he is a grassroots superman who has no time for elitist cerebral concerns and is brave/abrasive enough to fight "outsiders" who are perceived to have short-changed Niger Deltans.
Another thing I noticed when I discussed Wike was that he is widely regarded as being a moneybag who "deserves" the Peoples Democratic Party, PDP, ticket because he is – allegedly-funding the PDP almost singlehandedly. It will be fascinating to find out, in the coming weeks, whether Wike can gain genuine support from PDP primaries delegates who are not from our neck of the woods and not entirely driven by mercantile considerations.
Another type of election!!
AS we obsess about the 2023 elections, let me mention another upcoming election that has nothing to do with Naija politricks. Gillian Joseph and I met when we were both working for BBC TV in London a quarter of a century ago. She has been my dear friend since then and I regard her as a sister-in-law because she is married to Tunde Adebayo, a very amiable Nigerian entrepreneur who went to Government College, Ibadan.
Gillian also happens to be one of the most distinguished Black journalists in the UK. She appears almost daily on Sky, the international TV channel and I am appealing to Vanguard readers to help her win a Best News Presenter award by voting for her in a (British) Television & Radio Industries Club (TRIC) poll.
Here is the link to the voting platform, which will remain open until April 27: https://tric.org.uk/public-poll//
Quite a few Nigerians regularly watch Sky TV programmes; and some who are aware that I grew up in the UK and started my media career in London have asked me whether I know Gillian and told me how much they admire her charming personality, stylish presenting skills and deep understanding of current affairs issues.
For those who would like to know more about her, here is a brief list of her extensive achievements: She has more than 30 years of broadcast experience, currently anchors Sky News at Ten and can often be seen on other shows. She started her broadcasting career with the BBC in Manchester before becoming a radio reporter and producer with Radio Merseyside. During her time in Liverpool, she was one of the first to break the news of the James Bulger murder case in 1993.
Gillian returned to London in 1998; and worked as a reporter, presenter and newsreader on several famous BBC TV and radio programmes before she joined Sky News. A versatile veteran who is as comfortable with stressful live broadcasts as she is in with studio-based challenges, she played a major role in coverage of the aftermath of the 2004 Asian Tsunami and has reported from and on turbulent locations across the globe, including Northern Ireland, South America, Iraq and Africa.
Gillian has covered every British general election since 2001, as well as the European Union Referendum that led to Brexit…and the presidential elections in the United States, Queen Elizabeth's Diamond Jubilee, a royal wedding (Prince William's), the funeral of Margaret Thatcher and the death of the late great Nelson Mandela.
In 2017 for three whole days, she was the sole presenter on Sky News's specially commissioned pop-up channel, Sky Ocean Rescue. Finally, Gillian is a board member or patron of six charities, including the Secondary Schools Supporters Association in Dominica, the West Indian island from which her parents emigrated to England.
She, alongside team members, recently won £29,000 for the African Caribbean Leukaemia Trust on the game show, The Chase. Gillian Joseph is a consummate professional who has enhanced the image of Black people internationally. She is a philanthropist. She deserves our votes, so please don't forget to go online and vote!
Subscribe for latest Videos