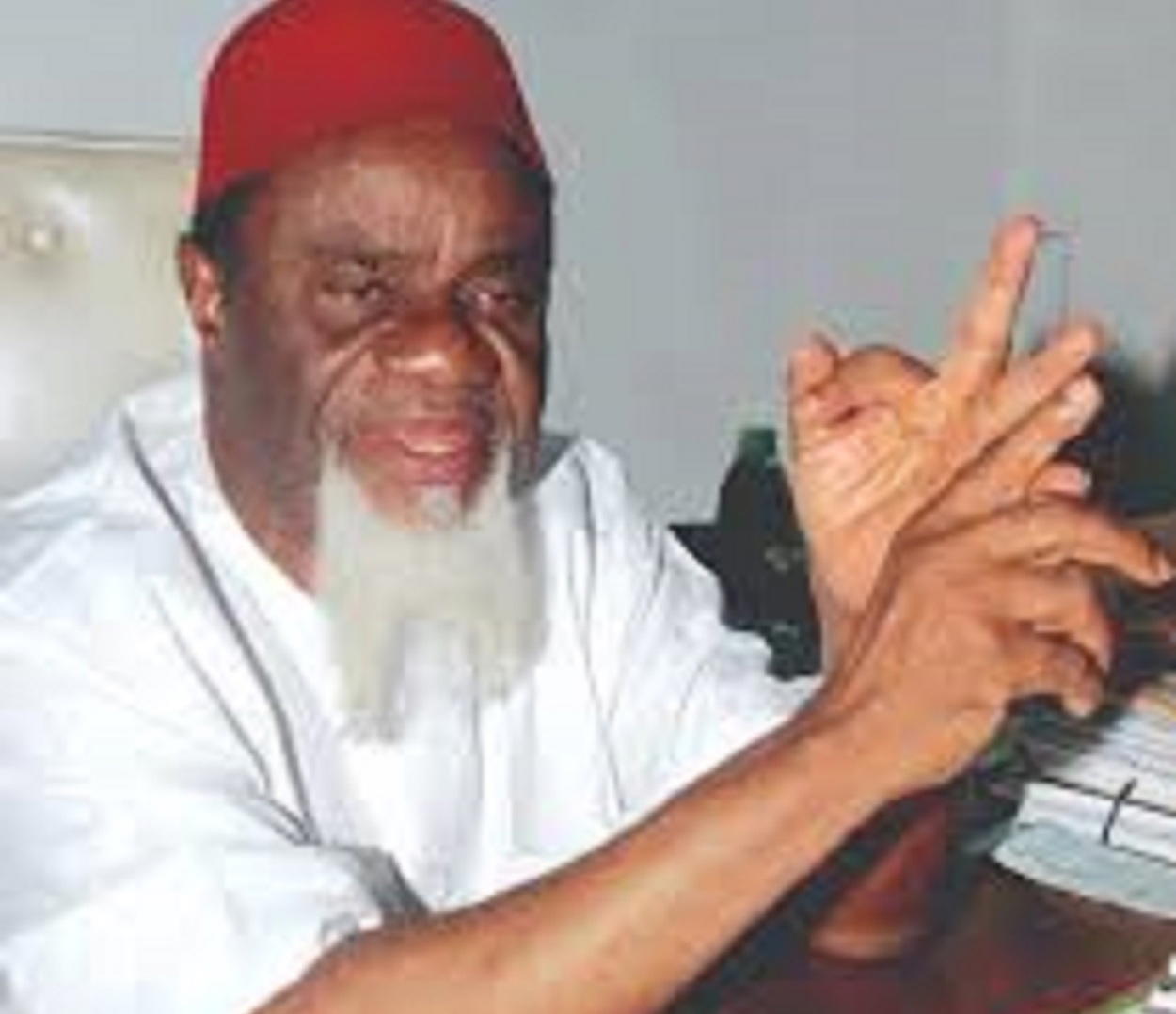 Former governor of Anambra State, Chief Chukwuemeka Ezeife
…As Adebayo, presidential aspirant pays him visit over wife's death
By Chris Ochayi
A former Governor of old Anambra State, Dr. Chukwuemeka Ezeife, Wednesday, dismissed opinions being expressed from some sections of the country that Nigeria might break up,  assuring that in spite of the numerous challenges confronting it, Nigeria will not disintegrate.
Dr. Ezeife spoke at his Abuja resident, the president aspirant of Mega Party Movement; Prince Prince Adewale Adebayo paid him a condolence visit over the death of his wife, Mrs Njideka Ezeife, recently.
The late Mrs Ezeife was the Anambra State First Lady from January, 1992 to November, 1993, when her husband was the state governor.
Ezeife, while addressing the presidential hopeful and his team, said that it is not over for Nigeria but Nigerians have to go back to God in prayer to restore his plan for the country, adding that the people should be ready for a new Nigeria.
He said, "We have a gem of a country, God gave us more than he gave any other country, no country have what we have, the men and some of the women in Nigeria's politics messed up God's design for unequal greatness, for a superpower among nations. Man messed up the design but can the will of man dominate over the will of God? So, be ready to receive a new Nigeria.
"With you the younger ones, I am very happy, the problem is that our political leaders do not have conscience, conscience is dead in Nigerian politicians and that is the problem. We have to pray to God to resurrect conscience in Nigeria.
"If we have conscience, we can bring back Nigeria, we can still be a superpower and we can make all Africans and black people respected and have dignity because our failure is the failure of all blacks. It is not over, Nigeria is not about to disintegrate but we have to go back to God and pray that he restores his plan for Nigeria."
Dr. Ezeife expressed gratitude for Prince Adewale Adebayo and his entourage for condoling with him, while stating that, "because of the way you talked, I am very condoled. May God bless you."
In his address earlier, Prince Adebayo said the visit was to express their deep sympathy and condolence to the family, noting that although they will normally come to him for wisdom, but even the strongest of men need to be comforted when they are bereaved.
He described Ezeife as a stabilizer in the leadership of this country, adding, "You are a national leader that reminds us what the country should be and what we should also be. When you were the governor in Anambra, you tried to unite the country as a family, showing that you want us to be united as a country.
"You are known to be a planner and you left a solid foundation of what Anambra State is today. You have been an example to the country in many ways. At a moment like this, we've come to you, you must feel the vacuum of losing a loved one but you must fill that vacuum with all the many children you have produced.
"Your duty is to give us direction, the country needs unity and you have an answer to that. The answer to Nigeria's centre of gravity is the centralization of Igbos in Nigeria, you have been a solid reference for all of us. You have seen a lot but yet you've soldiered on, but our duty is to relieve you of some of these heavy responsibilities by taking care of ourselves and being responsible", he stated.
He appealed to Nigerians to remember that the late madam Njideka Ezeife made a lot of sacrifices that most Nigerian women are enjoying, and prayed for God to preserve Dr. Ezeife's life to see a new Nigeria.