By Emmanuel Okogba
Egyptian goalkeeper, Mohamed Abou Gabal has revealed the penalty kick conversations he had with Sadio Mane and Mohamed Salah just before he saved the former's spot kick during the Africa Cup of Nations final on Sunday.
The Zamalek of Egypt shot stopper saved Mane's 3rd minute penalty as both teams cancelled out each other to end the game goalless after 120 minutes.
Senegal would go on to win 4-2 via penalties with Mane taking the decisive kick which he converted. Although Gabaski dived in the right direction, he was unable to stop Mane's fierce effort from finding the back of the net.
Gabaski before the first save was pictured having a conversation with Salah before Mane came into the frame to interrupt.
As per Goal, Gabaski while speaking with MBC Egypt said, "Salah told me: Mane would shoot to the right side, he is coming now because he knows what I am saying.'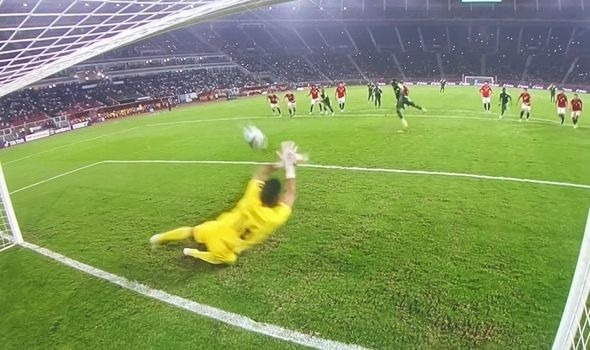 "Mane said to me: 'I will shoot on the left,' then Salah replied 'Let's see.'"
The loss was the first time Egypt failed to convert a spot kick in the three games they were involved in at the finals that dragged into penalties.
Abou Gabal's heroics began after he replaced first choice goalkeeper, Mohammed El Shenawy who got ruled out of the tournament after he injured himself in the Round of 16 clash against the Ivory Coast.
Gabaski was also seen to have on his water bottle, information on where opposition players may likely send their kicks to.