By Muoka Lazarus
"And God blessed them, and God said unto them, Be fruitful, and multiply, and replenish the earth, and subdue it: and have dominion over the fish of the sea, and over the fowl of the air, and over every living thing that moveth upon the earth" (Genesis 1:28).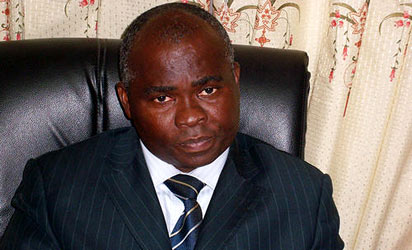 Beloved, it has been the will of God to make man a blessed creature. This He demonstrated at man's creation when He made him in the likeness of his Creator unlike any other creature before him. Be-sides that, God made him His representative on earth to control, and have dominion over every other creature, and command-ed other creatures to fear and serve man.
Madumere's aide escapes assassination
Even when that opportu-nity was lost by man after his sin, God sacrificed His only Son Jesus Christ to die for man in order to re-concile him with his Creator and got him re-positioned for blessing of higher level. Jesus there-fore became the Propitiat-ion that restored this bless-ing of higher level to man.
John 10:10b says: "I am come that they might have life, and that they might have it more abund-antly"
Jesus came not only to preserve but impart life, and communicate it in affluent and enduring exuberance which was the high level of life man was enjoying before the fall. So, the emergence of Jesus Christ which we are cele-brating of in this season brought about God's bless-ing for high level in rela-tion to eternal joy, peace and all those exalted means of felicity which are prepared for man in the world of glory.
Although, this grace of God's blessing for higher lever is given free yet some people have not fully had grasp of it due to their re-jection of what stand as the symbol of this blessing in the person of our Lord Jesus Christ. It is only when they queue into the principle of this blessing that they can be catapulted into what this blessing of the season represented and thus their enemy even the devil and his agents cannot pull them down.
So, if today you have not tested the goodness of God or you want to exper-ience the blessing of the season, I want to let you know that another opportunity is avail to you for our God the ever mer-ciful is visiting us again this weekend.
Burden of old age; agony of ignorance
Our father in heaven wants to use the occasion of the visit to season His mercy with blessing of the season that maketh rich and added no sorrow. Thus, God will place us above the challenges that have been troubling us all these years, for after this visitation we will see them no more. I don't know what is troubling you, but what-ever that may be, God's blessing for this season which will be showered upon us this weekend shall override it and your life will never be the same again.
What you are passing through now may have given rise to the thought that you have been doom-ed to sorrow forever. You may have tried in vain to meet your expectation for the year, and may be thinking there is no more hope for you. But I am assuring you to the contrary because God has set out a special prog-ram with the theme, Only God can do this–to bring you out from your despon-dency into His glorious riches where you will exp-erience joy unspeakable.