By Gabriel Ewepu
ABUJA- OVER 93 countries in talks with the Federal Government on investing massively in the solid minerals sector under the auspices of the International Mining And Resources Conference (IMARC) at the 16th Mines and Money Conference in London.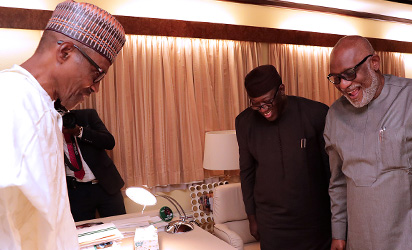 This was contained in a statement signed by the Personal Assistant to the Minister of State Mines and Steel Development, Ishaku Kigbu, where the Global Head of Mining Sales for IMARC, Mike Hill, said they are in talks with Nigeria's Minister of Mines and Steel Development, Abubakar Bwari, on how Nigeria will expand its brands of solid minerals to the world and also help the country key into IMARC's investment moves with its platform which has larger conferences are organised with 93 countries as participants.
He said: "The conference is broader with huge exposure ideal for the kind of mileage Nigeria desires for robust networking with big players within the mining industry."
Following the team's visit to the minister with the idea to key into IMARC Conference explained that they are involved in building and marketing brands or elevating existing ones.
Meanwhile, the Minister said the talks are on the heels of broadening the investment capacity of half a dozen strategic minerals available in Nigeria through the instrumentality of the IMARC.
Bwari who hosted the delegation from IMARC at the Nigerian Meeting Room inside the Business Centre, venue of the ongoing Mines and Money Conference said the talks were imperative based on policies to diversify the economy by the Buhari-led administration trough the solid minerals sector.
According to him while explaining the essence and target of the talks he said Nigeria had to do everything to leverage on the conference with aim of enlarging the country's "frontiers in the area of wooing investors to the solid minerals sector."
He said: "We are looking forward to using this conference to leverage on the various potentials and investment possibilities that abound in Nigeria. Our level of mining will determine where investors and promoters can come in.
"As you know the government of Nigeria is committed to the diversification of the economy through the solid minerals. The renewed vigour is aimed at trying to change from over reliance on oil and gas to making Nigeria a mining destination.
"In doing this we are ready to partner with interests, conferences and international firms that will address issues that could help reposition Nigeria on the world's mining map."
However, he (Bwari) acknowledged that of the challenges being faced by sector is the difficulty of convincing investors based on the discovery of oil, he said that, "Nigeria was first known as a mining nation before the advent of oil. Since oil was discovered attention shifted from mining which explains the reasons we use conferences like this to network with those in the sector internationally."