By Emmanuel Aziken, Political Editor
Originally trained as a journalist, Prof. Pat Utomi has been more celebrated as a professor of political economy and management expert with illustrious laurels in the private sector. He, however, came to public renown in the public sector when in his twenties he was appointed a special adviser to President Shehu Shagari.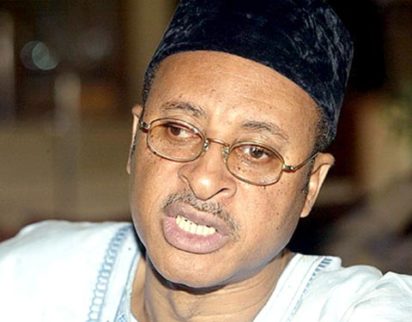 2019: 45 opposition parties adopt Atiku as consensus candidate
However, his repeated attempts for glory in the political terrain have been rather unimpressive. Indeed he has failed to ignite the kind of success he garnered in the private sector in the political terrain having been repeatedly flunked by the masters of crude politics as demonstrated in the country. He has perhaps aptly codified triumph in politics after the behavior of one Nzeribe who is best remembered as a collaborator in the annulment of the best presidential election ever organized in Nigeria.
Utomi, a chieftain of the ruling All Progressives Congress, APC, in this interview opens up on what he describes as the machinations that took place in the recent internal party elections of the party and especially as they concern his governorship aspiration in Delta State.
What is your assessment of the recent internal party elections conducted by your party, the APC?
The last few months have tested the soul of the APC. Mistakes were made but Redemption is possible. Growing up pains can be overcome and what we do as members of the party will determine the future.
The National Working Committee of our Party was ineffectual and very often injurious to the ideals of the party in a way that was not rational or easy to explain.
But I see the regrets all around even though pride has not allowed some of the principals apologise to party faithful and Nigerians in general. This apology is needed to produce a Catharsis that will aid regeneration and renewal.
The crisis of the party primaries was deliberately fomented. The goal was an outdated formula often credited to Arthur Nzeribe. Create confusion, defy logic and force your will , even if it is against decency, the rule of law and the popular will, to get institutional pronouncement, then while holding it begin to beg, harass and intimidate. You will exhaust them and steal what you want.
That formula may have opened paths to treasury looting for a few bloody minded adventurers but see where it has left Nigeria. On perception of our national character, state of national development and placing on the SDGs  etc . When such narcissism overcome people given sacred trust to serve in the interest of the people, and power overcomes purpose, poverty becomes our signature tune.
What happened was a sad failure of stewardship which has effectively transferred the burden of justice to our overburdened Judiciary.
The truth is that the failures were universal across the parties and speak to a character challenge in the kinds of people many of the parties have attracted.
This suggests failure in one  of the primary duties of political parties of recruiting and socializing its members to set purpose around ideals and ideas of the common good.
Are you comfortable with the fact that the party is in crisis in virtually all the states of the federation? If not, what were the fault lines?
I am not comfortable that the party is in crisis in many places but I like to see opportunity when some see crisis.
The crisis provides an invitation for re-engineering political parties from machine politics where they are essentially platforms for grabbing power like the Daley machine in Chicago, to one that articulates common purpose within a base of values and canvases such in the public sphere of rational conversation. When five years ago I delivered the Leadership Newspapers Annual lecture on Political Parties I pointed to some inherent dangers in political parties and suggested how to contain them.
I went back to that 1911 classic by Roberto Michels, the book Political Parties and the postulation of the Iron Law of Oligarchy.  So, if he who says Organization says Oligarchy and we know that power corrupts and absolute power corrupts absolutely, as Lord Acton reminds us, it should not be surprising that impunity reigns with party bosses. This is why celebrating conversation of ideas, following of guidelines, procedures and a culture of integrity is imperative.
Who and what would you blame for the crises all over?
It is systemic from the way our politics and economics have evolved. There are too many in politics as a source of livelihood rather than a citizen arena for service for the advance of the common good. Term limits are used to check that but people just go from one role to the other. Because that is where they survive so they will do anything, no matter how indecent to keep their mouths on the feeding bottle. This must change. In my view nobody who is not a civil servant should earn an income from government  for more than 12 years without a three year break.
We need an economy that breaks the bondage of poverty such that people do not subscribe to slavery just to survive from monies politicians steal to dole out to buy their votes.
Then there is the group of educated, sometimes middle class people whose raised voices and citizen action can be a major check and balance on the party bosses inclination to impunity for self love . But either out of prideful contempt of politicians, fear, or a sense of helplessness see it all as a spectator sport.
In a book I am currently writing on the Nigerian condition I dedicate the most important chapter which I have titled "The Complicit Middle' to exploring the redemption of this group.
Finally, I think we tend to pick the wrong people for critical positions of public trust. Character matters.
Why are you sometimes called factional candidate in Delta?
Well, our ways have a way of making simple things complex. The main role I have played in the APC in Delta since we founded the party has been as reconciler  In the early days after a court action by Adolo Okotie Eboh placed the Exco in suspension I walked the middle, trying to pull all strands together in the hope of weaving a tapestry of hope. I hosted several meetings in my home in Lagos, at the Hilton in Abuja and my country home in Ibusa. On a few occasions I relied on the Edo State Governor at the time. Adams Oshiomhole used to kindly provide me logistics support as I would fly into Benin and need transport and security.
When Great Ogboru and others moved in after the party had won at the centre in 2015, a new dissension started. The joiners wanted to take over. They did little to mix with the majority. I continued to try to show that we are bigger together by remaining active on both sides, encouraging unity.
When Oshiomhole became chairman a legal fiction was invented called consent judgment with the goal of subverting the Exco that had been sworn in by the extant chairman, Chief John Oyegun.
I nearly went bankrupt from paying my way to and from countless meetings called by Oshiomole to reconcile the parties. Evidence would later show that it was game playing with no sincerity in purpose. I maintained my bridge policy being with both sides in the hope of reconciling both sides.
At each meeting the chairman cited me as example of the person working for the greater group. At one stakeholder meeting he publicly chastised the gladiators, including Ogboru while praising me. The Jones Erue primaries turned out to be shambolic, violent and  more devious than anything Nzeribe could have contrived.
As I told Gen. Onoja before they went to the field to a feast of tear gas firing, gunshots through the night, and use of slips by a candidate in place of a list of delegates the aspirants were in law required to get in advance but which he could or would not produce at the briefing on the day of the Primaries they were making Nigeria look worse than a failed state.
There were many more clever ways of rigging an election, if that were their intention . The Ogodo Exco which represents a majority of APC members had their primaries and elected me. Even with an Asaba High Court ruling restricting the Oshiomole NWC from sending a list to INEC from Delta, they did, bringing the INEC chairman into contempt of court.
In what way do you think that your party, the APC has performed better than the PDP as a ruling party in managing its internal dissensions?
In managing internal dissension PDP may seem to have , when they were ruling party, to have managed things better  because their way was the way of impunity and abuse of the law. All you did to pacify by just cutting them a slice of what belongs to all in undue portions.
Do you think that the interventions of Prof. Osinbajo can help to douse the tension in the party in the state?
I do think all interventions  for peace and progress are always good. But as a friend of the Vice President for decades I had a duty to alert him about being careful not to be rubbished by collaboration with evil. As Pastor, Professor of Law and noted human rights champion he ought to be careful with some things lest the verdict of history be damming.
I had to remind that he was Chairman of the Convention on Business Integrity when CBI honoured me along some iconic pillars of integrity like Mr Akintola Wlilliams, Dr Michael Omolayole and Dr Christopher Kolade. To walk in that integrity I needed to bring some truths home. If he directs his energies towards truth and justice he can help douse the tensions.
It is alleged that those who recently came with Dr. Emmanuel Uduaghan also benefited from the allocation of tickets to run for political office. Has this compounded the crisis in the party?
I do not have much of the details of the Uduaghan package but to diminish people who have kept the party going each time someone new shows up is not the smartest way to do things. It suggests crass opportunism..
My ideas can help as those of others when we stop being afraid of ideas. That there is this bedlam you suggest is essentially because this fear of thinking people in contemporary political culture has been the norm. The progress of the independence fathers was because they had men of ideas around them. Today that's far from the norm.
In what way can the crisis be resolved?
Simple. Seek truth and act nobly. Especially if you remember that people's well being, the dignity of the human person is at stake. At Experience 2018, Pastor Paul Adefarasin decried the take over of Political parties by the new neofascist , terorists snf touts. I could add to that list conmen drug addicts and ego merchants.
The result is laying upon five decades of state capture a new layer of criminal capture of our political parties. If we do not check this trend clever people abroad will sense a road to Somalia in which the state could be seen as a criminal enterprise. The Nigerian state cannot afford such a legitimacy crisis. So all hands need to be on deck . Those in error should swallow humble pie and reach out
Are you satisfied with the way the country is being run?
Well I worry bout a few things. One of them is excessive partisanship.
Our country is in a severe existential we must go for elite consensus like Mahathir Mohammed did for Malaysia a generation ago.
Everywhere you look Nigerians are voting with their feet. The smartest are heading to Canada and the most desperate to the Mediterranean. We need to create conditions that reverse such.
Some of my friends say government is a lost cause and that we should turn to the private sector like post war Italy. I say why not both so we can efficiently leap frog our way out of poverty