By Udeme Akpan
Stakeholders in the downstream sector of Nigeria's petroleum industry have called on the Federal Government to privatise the refineries and deregulate the sector as part of 13 measures adopted to stimulate sustainable growth.
The stakeholders who rose from this year's OTL Africa Downstream conference in Lagos last week stated in a communiqué sent to Vanguard that: "determined to achieve optimum efficiency from market potentials, industry stakeholders are advised to embrace synergy within and beyond national boundaries as a means of fully optimising their operations across the downstream value chain."
The stakeholders, who examined many issues, including Unlocking Value through Industry Synergy, Optimising Efficiency and Returns in Petroleum Retail, Current Outlooks for Crude Oil and Petroleum Products Flows to African Markets, Regional Cooperation for Sustainable Petroleum Infrastructure Projects, Harnessing Opportunities in The West African Oil and Gas Shipping Cluster, among others also stated: "Determined to stop the recurring losses resulting from sub-optimal refining operations, stakeholders call on government to privatise the refineries to return them to profitability.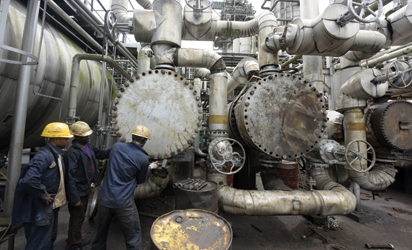 "Convinced it can catalyse the development of the downstream petroleum sector across the continent, industry urges African governments to fully deregulate the market from price caps and all forms of control.
"Concerned about environmental hazards posed by fuels currently imported into the region, governments are advised to enforce policies on desulphurisation of fuels imported into West African countries and direct that only petroleum products with 50PPM or less can be imported into their countries.
"Worried that retention of the Petroleum Equalisation Fund (PEF), in the Petroleum Industry Governance (PIG), Bill signals continued price regulation in the fuels market, operators call on the Legislature to expunge all provisions from the PIGB that constrain market freedom to ensure development of downstream petroleum in Nigeria.
"Desirous of establishing a virile shipping cluster in the West African region, participants call on governments of member countries to consider the modalities of making the entire Gulf of Guinea (GoG), a Safe Anchorage Area (SAA), with a framework that allows cross border patrol and surveillance in the region."
It stated: "Realising the value of regional trade cooperation, industry notes a need to review the ECOWAS Treaty in light of prevailing realities to ensure ease of cross-boundary cooperation in the development of petroleum infrastructure.
https://www.vanguardngr.com/2018/11/atiku-to-ensure-ratification-of-intentional-treaties-in-entertainment-sector/
"Focussing on achieving regional hub status, industry encourages Maritime Administrations in West Africa to benchmark their rates, tariffs and levies against those obtainable in other regions in order to improve competitiveness and attraction for maritime services.
"Mindful of its benefits for industrial and domestic energy, operators are encouraged to explore increased deployment of propane gas in powering industrial and automotive machinery.
"Convinced about the safety and efficiency of LPG, stakeholders urge governments and operators to increase efforts at grassroots sensitisation and introduce more incentives to encourage the transition, penetration and utilisation of LPG across the region."
"Understanding the challenges inherent in the acquisition of LPG cylinders, governments are encouraged to promote measures for the widespread deployment of LPG cylinders to all parts of the continent."
It added: "Realising the role technology has to play in the future of the downstream industry, industry calls for development of a regulatory framework for the integration of technological innovations into contemporary downstream petroleum operations.
"Concerned about capacity deficit in digital and new technology awareness, industry calls on educational institutions to review existing curricular to ensure skill sets required to carry Africa's downstream sector into the future are developed."