The All Grassroots Alliance (AGA) has appealed to Nigerians to fight poverty, corruption and underdevelopment in the country with their votes in the 2019 general elections.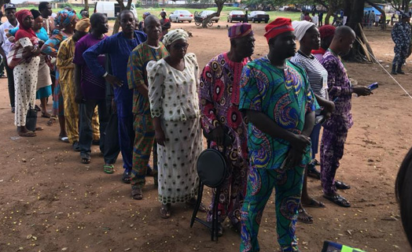 Dr Olukayode Oshiariyo, the National Chairman of the party, made the plea on Thursday in Gwagwalada, Abuja, after the party executive meeting and inauguration of its campaign.
According to him, AGA is a party for the grassroots that will guarantee job security, security of lives and property, abundant food and overall development of the country.
Work for Lagos, Oba Akiolu urges Sanwo-Olu
Oshiariyo noted that the party would develop Nigeria if it won presidential election for its candidate, Mr Chuks Nwachukwu, saying "the destiny of Nigerians is in their hands" with their votes.
He explained that the party had gained prominence shortly after it was registered due to its masses-oriented programmes aimed at liberating Nigerians from poverty.
He reiterated the party's promise not to disappoint Nigerians but to make a paradigm shift in the narratives of governance in Nigeria.
He also said that the party met to review some of the issues the members discussed in the party's national convention on Nov. 11.
He recalled that the party, after the convention announced "governorship candidates in 17 states, 124 candidates for state houses of assembly and 66 candidates for the National Assembly''.
The presidential candidate of the party, Mr Chuks Nwachukwu in his address, said that restructuring of the country would top his agenda.
CBN reiterates commitment to livestock production in Nigeria
He reiterated his promise of his decision to serve the country as a near-future president to liberate Nigerians, saying: "let this election be a referendum for progress and liberation".
He also said that the party, if it won the election, would ensure regular payments workers' salary and pension, ensure reduction in the cost of governance and grassroots development.