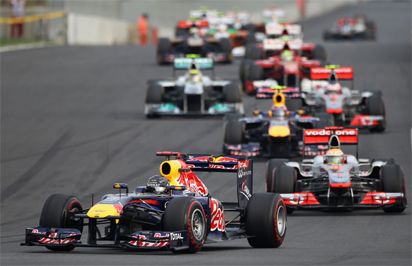 formula one
Sebastian Vettel made clear Monday he still believes he can win a fifth world title this year despite sliding 50 points behind Lewis Hamilton after the Russian Grand Prix.
Hamilton's victory, after Valtteri Bottas followed Mercedes team orders to let him take the lead, lifted the Briton further clear of Vettel with five races remaining this season.
But the Ferrari driver insisted he has not given up hope despite seeing his in-form rival reel off a fifth win in six races to maintain his momentum as Ferrari struggled to keep pace.
"I go race by race," said Vettel. "Obviously, it's not getting easier if we lose points.
"But I still believe in our chances. Yes, it's not getting bigger, as I said, if you finish behind, but who knows?
"It takes one DNF (Did Not Finish) – ideally two! – and then all of a sudden things look different.
"I'm not wishing that on Lewis, but you never know what happens, so we need to stay on top of our game which maybe we haven't been completely this weekend.
"We must make sure that from where we are now we focus on winning the last races."
Hamilton's 50-point advantage is the equivalent of two race victories worth 25 points, a lead he could relinquish only if he fails to finish, or score points, and Vettel wins.
Vettel was unexpectedly encouraged by Ferrari's performance on Sunday when he followed Hamilton and Bottas.
"It's not entirely in our hands," he added. "We need a little bit of something to happen, but we need to make sure that we are always there.
"If it's a third we can get, or a win, you need to get those places to make sure that we do everything.
"The rest, unfortunately, is not anymore entirely in our hands, but I still think that if we win the next few races we can put a lot of pressure on them and make something to happen.
"It's not easy but I believe we still have a fair chance."
AFP