The historic 2018 National Health Advancement Conference and Awards – NAHAC, has recognised the outstanding commitments of  institutions and individuals who has worked earnestly in  human advancement and national development.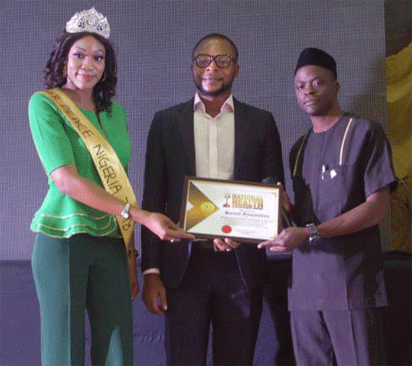 Amongst the renowned institutions that were recognised at NAHAC 2018 is Juremi Foundation, which was awarded as the "Leading Humanitarian Foundation of the Year. Juremi foundation received this deserving award for its undying support and contributions to humanity, especially those leaving with disabilities.
Diamond Bank records N142bn gross earnings in nine months
The event of NAHAC 2018, has the distinguished presence of Her Excellency, Mrs Ouwatoyin Saraki, founder, Wellbeing Foundation, Dr. Mike Omotosho, President Mike Omotosho Foundation, Dr. Edwin Isotue, who represented Dr. Wondi Alemu, WHO country representative, Hon Mallam Ibrahim Jibril, Honourable Minister of Environment, Baba Shehu Lawan, DG AEPB and other renowned personalities across Nigeria and Africa.
While reacting to the award, Mr. Hamza Umar commended the organisers of NAHAC 2018, and the convener, Queen Chikezie Ijeoma Stella,  stating that this historic initiative will continually enhance the healthcare sector in Nigeria. He also stressed that the foundation will remain committed to humanity enhancement goals and visions across Nigeria.
Mr. Hamza Umar, the PRO of Juremi Foundation, received the award in the company of Miss Ambassador for Peace 2018 Winner, her Majesty, Queen Nene, in a vibrant presentation of gratitude, expressing appreciation to the honour bestowed on the foundation.
Juremi foundation has been adept in creating opportunities for the less privileged, building skill acquisition centre, providing vocational training equipments and distribution of relief materials at orphanage homes and IDP camps across Nigeria.
Subscribe for latest Videos