The Nigeria Institute of Soil Science says the Federal Government, through the Federal Ministry of Agriculture and Rural Development, has developed recommendations on fertiliser use for different crops and soils.
Prof. Victor Chude, the Registrar of the institute, said this at the maiden Agriculture Summit of the Agriculture Correspondents Association of Nigeria (ACAN) in Abuja on Tuesday.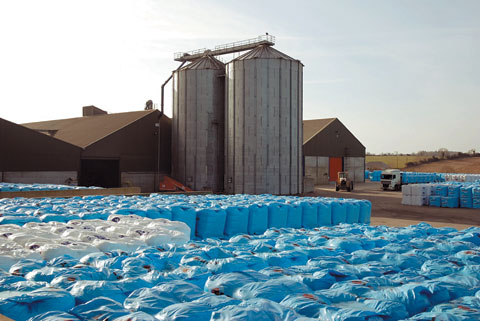 Chude, however, expressed regret over the continuous neglect of advice on fertiliser usage by farmers, adding that the development would continue to engender low yield of crops across the country.
"If we continue what we are doing now, using one type of fertiliser for all parts of this country, our farmers will not come out of poverty and we will continue to record low yields.
"Fertiliser recommendations for different soils and crops have been developed by the Federal Ministry of Agriculture.
"The nutrient requirement for cassava is not the same as the one for cowpea; if you apply the same type of fertiliser in cassava and cowpea farms, you only produce a lot of foliage.
Kano govt laments failure of farmers to repay loans
"There is a need for fertilisers to be produced based on soil mappings,'' he said.
In his remark, Chief Audu Ogbeh, the Minister of Agriculture and Rural Development, represented by Dr Matthew Owolabi, the Director of Irrigation at the ministry, commended agriculture correspondents for organising the summit.
Ogbeh called on farmers to see agriculture as a business where designed policies could spur growth, particularly among the youth.
"Africa is the solution for feeding the world because of our arable land and we now care about biotechnology, procurement of seeds.
"However, we have a lot of work to do to re-orientate ourselves, so that we consume what we produce. Only about 10 per cent of the land we have is being used optimally for agriculture.
"The Green Alternative Policy has been inculcated in the Economic Recovery and Growth Plan. ACAN should strive to promote the development of value chains across the agricultural sector.
"I see us achieving food security, producing food for exports; and I see a Nigeria with zero tolerance for imported food.
"This is because every importation of food equals to exportation of employment; we are very conscious of the need to engage in increased food processing,'' Ogbeh said.
Also speaking, Dr Onallo Akpa, the National President of the Poultry Association of Nigeria (PAN), said that poultry sub-sector was very important in the agriculture sphere.
While analysing achievements in the poultry sub-sector, Akpa said that the Federal Government had paid over N2 billion to poultry farmers affected by the 2015 avian influenza outbreak.
"In 2015, we experienced an outbreak of avian influenza and the last administration paid N500 million to some of the affected farmers; leaving a carryover of 80 per cent of farmers uncompensated.
"Early this year, N1.825 billion was paid to farmers affected by avian influenza. Over N2 billion has been paid to farmers,'' he said.
In a lecture, Mr Ken Ukoha, the National President of the National Association of Nigerian Traders (NANTs), expressed regret over the increasingly moribund nature of agricultural extension services in the country.
He stressed that efforts to boost food production in the country would somewhat be futile without the input of agricultural extension services.
"Besides, economic diversification cannot happen without access to market for the farmers to sell their produce.
"It is headway to reducing post-harvest losses and developing all the value chains in agriculture sector,'' he added.
In a lecture, Dr Rose Gidado, the Country Coordinator of the Open Forum on Agricultural Biotechnology (OFAB), said that the country's economic diversification efforts would be meaningless without the development of agricultural technologies, especially biotechnology.
She underscored the role of biotechnology in efforts to achieve food security in Nigeria, saying that pragmatic efforts should be made to promote the adoption of good technologies that would boost food security.
"Malnutrition has resulted in death of many children in Nigeria and this is as a result of food insecurity.
"We have many threats to food security; these include weeds, extreme weather conditions, flood, insects and pests, socio-economic dynamics, farmers-herders clashes and soil degradation. We also need good technologies to preserve our crops.
"Our population is growing geometrically and we need to feed everyone, while the demand is driven by population growth.
" Biotechnology is the only viable approach for increasing food production. It is safe and can be used to improve crop and animal production,'' Gidado said.
The Chairman of ACAN, Mr John Oba, said that the summit, which would be an annual event, would promote sound ethics in the reportage of agricultural themes.
He said that the summit would also make agricultural news in the country more acceptable, accessible and reliable for policy making.
Newsmen report that the summit has "Agriculture Value Chain Development: A Missing Link in Nigeria Economic Diversification Narrative'' as its theme.
NAN
Subscribe for latest Videos