Niger Delta Activists Forum, NDAF, has warned of planned attacks on oil facilities in the Niger Delta belonging to Nigeria Agip Oil Company, NAOC.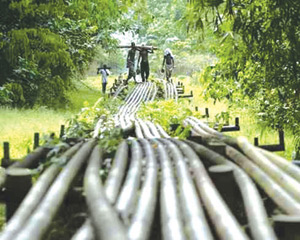 Addressing newsmen yesterday, the group said host communities in the region had declared 'Operation zero barrels' on the company over its "disregard and total disrespect" for the residents.
The group had earlier given the company a 14-day ultimatum to recruit members of the host communities into its staff or risk "total and complete shutdown."
Success Jack, the convener of the group, said the host communities were aggrieved as a result of NAOC's alleged gross violations of human rights, non-implementation of previous agreements, and pollution of land and waterways in the Niger Delta.
He said efforts to broker peace failed because the company was "adamant and succeeded in truncating efforts at achieving peace.
"On a final note, we want to further draw the attention of all relevant government agencies to the fact that the resolve by these communities is real and any effort to remedy things is still highly welcomed.
"We are aware from our interactions with these people, that at any time from 00hrs on Wednesday, June 20, 'Operation zero barrels for NAOC' begins."