By Innocent Anaba
Mr. Mela Audu Nunghe, former chairman of the Nigerian Bar Association, NBA, Abuja branch, in this interview, spoke on the forthcoming NBA elections, the crises in Abuja branch of the NBA, the resurrection of the Trade Fair Complex and sundry national issues. Excerpts: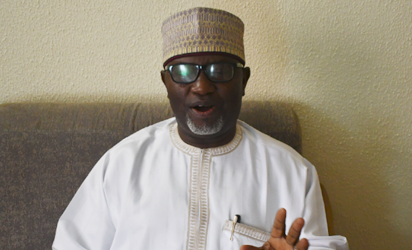 By Innocent Anaba
THE NBA is going to  elect a new set of leaders to pilot the affairs of the association for the next two years, what is your advice to the association?
My advice to the Bar is that they must avoid any pitfall that will lead us to any crisis. There should be no godfatherism in professional associations like the NBA. Anybody who feels that he is qualified to lead the association should present himself, they should not use religion or any form of divisive tactics to divide the association. Merit should be the yardstick.
The Bar Association has no religion, the Bar Association has no tribe, the Bar Association is a collection of lawyers who are bound together by that calling of being lawyers. That is one of the reasons I like the military. When an officer is due for promotion, even if he is from the same house as the last general, he will be promoted accordingly because he deserves it. That should be the practice within the NBA and we should also remember that as a democracy in Nigeria, other people are also watching us to see how we are doing it. We must be very careful because we are being watched by other associations to set the pace. So, I wish the Eastern Bar Forum which is supposed to produce the next NBA President and all the aspirants the best of luck.
What is your reaction to the crises in Abuja branch of the NBA, how is the Bar coming out of this mess?
The Elders committee of the  Bar has tried and they have not come out of this situation. I think that there has to be one drastic action, if possible that should bar all those who are causing these crises in Abuja branch. They should be suspended until we attain stability. So, if I had been in the centre of the crises, for God's sake, for the sake of the association, I should be barred at least for two years or more until  we have a stable association.
Then, they should be careful on who they appoint to conduct elections because some of them have their own candidates and when they come to conduct elections, they do everything possible to put their candidates in office.  Why then do you think the scale of justice Ibi Jus ibi remedium does not have a head or where it has one,  the face is covered? It is because the law does not know anybody's face. The law must operate for the existence of good society. So, when you bring somebody who has interest in Mr. X and everything he does is tilted towards wanting Mr. X to win, it won't work because the moment other contestants see that there is no transparency, they will revolt. So people they appoint into the electoral committee and the powers conferred on them matter in electing a credible executive for the association. That should be replicated in the national elections as well.
Many people have asked why Chief JK Gadzama (SAN)  went to court to seek redress over the poor conduct and alleged manipulation of the last national elections of  the association. What is your reaction to this?
The matter is in court and it is a matter of common knowledge. Some people are blaming him for going to court. But it is his right, that is the most civilised way to seek redress,  I do not see why anybody will begin to blame him for going to court to ventilate his grievances. Do you expect him to mobilise some young men, give them money and let them be causing commotion every time the NBA is meeting? It shouldn't be, so we should commend his courage for taking legal steps to challenge whatever he thinks is wrong. At the end of the day, whatever the court says, even he himself will be bound by it whether he likes it or not.
You contested election for  the House of Representatives  under the Congress for Progressive Change, CPC before the merger that produced the All Progressives Congress, APC. Now do you intend to recontest the election? What is your next political move?
Once you start a race, you will like to complete it at any time in your life. The developments in the system since then  have been great  because from CPC, we now have APC which is the ruling party. There are so many things that one has to be very careful in looking at but I do really want to represent my people at any given point. I can't say with certainty what is going to happen, everything lies with God. First we pray that we are alive, secondly, if we are alive let God order our lives in doing what is right. But one thing is of utmost importance,  it is not really about you, it is about having candidates that are credible.
What do you mean by this?
If I am contesting for a position and I see a more credible candidate than myself, not because of ego,  I will support him. If I trust you so much and you have such credibility that I believe that you can deliver more than me,  I will give way for you. It is not a life's struggle that you must be there, after all, you gain power only if God wills. No matter what you think about yourself, unless God wills, you cannot get into any position. So, I desire to represent my people and I believe that I will give them better representation than  all those who have been rep;resenting them.
I know that none of them  talks, none  of them has either moved a motion or  led a debate on any issue because of their backgrounds and because they were not supposed to be there  but for one reason or the other, they are there. Most of those who came to represent Billiri Balanga  from Gombe State did not make much impact. Apart from the late Idris Abubakar who was in the Senate  and the late Tawari Umbis Wada,  who incidentally were both lawyers, we never had such robust representation from any  of our people in the House of Representatives.
They were the ones  who made us proud and gave our people robust  representation in the National Assembly. Because they were articulate, they understood the issues, they understood what the responsibilities and the duties of legislation entailed and they did it with all their might. Unfortunately, they were not able to live longer than the day they left.
You were appointed chairman of the board of Lagos International Trade Fair Complex, how do you  feel about this appointment?
I thank God for the appointment and I will like to use this opportunity to thank the President and Commander-in-Chief of the Federal Republic of Nigeria, Muhammadu Buhari for finding me worthy among millions of Nigerians to be appointed to this position. I didn't expect it but I know that somebody somewhere knows that I deserve it and that is why I give God all the glory, because God uses people.
It came to me as a surprise and when I find myself in situations like that, I brace up to the responsibility. So, one of the first things I did when I saw the appointment was to pull out the Act to understand the enormity of the responsibility before I started getting feelers and information about what the Lagos International Trade Fair is all about and I saw that it is a place that is needing attention,  and I said whatever it is, I trust God to help  me to make a mark and do something that will stand the test of time.
Have you taken time to visit the Trade Fair Complex to appraise the quantum of work there?
We were inaugurated on March 1, as board members of the Lagos International Trade Fair and before I visited the Trade Fair complex, I thought that it was wise to consult with the relevant government agencies and I was privileged and I thank the Minister of Trade and Investment for giving  me audience. I also had the privilege of consulting with the Director-General of the Bureau for Public Enterprises, BPE, the Solicitor-General of the Federation and the Attorney-General and Minister of Justice.
This is to enable us establish a synergy. It was to place me on  such a  platform that I can always consult with them and then we put our heads together to carry out the mandate as far as the Lagos International Trade Fair Complex is concerned. Now, having done that, I now visited the complex. The purpose was to have the inaugural meeting of the board, which took place on April 13, 2018.
Along with other members of the board, we took a tour of the complex, it is such a sad story. You will be excited coming to that place but you will leave that place very  sad.
Because it is wealth lying fallow. It is a gold mine that is abandoned, untapped, some people call it a dead cow, others call it a monumental waste. Now, how to move from there to restore life to that place is what no one person can do. Not even the board alone can do it, so it has to take the collective efforts of the management, the board, the relevant ministries and government agencies to see that this place is transformed as a national pride.
I do appreciate the enormity of work at the other agencies like the Tafawa Balewa Square, TBS, the National Theatre and so on, but since this is my own area, let me concentrate on that and see how collectively we can fall in to make it a viable project for the Federal Government. I do know that there is a National Council on Privitazitaion which is the body saddled with the responsibility to concession or privatise most of these government agencies.
We would work closely with them and the BPE to see how the Trade Fair Complex can be revived without necessarily falling into the same trap that happened the last time an attempt was made to concession it.  We are ready to support government policies, government steps and government initiatives to see that the Lagos International Trade Fair Complex is once more in the limelight and becomes a national and international centre that will attract the cream of businesses globally for commercial activities.