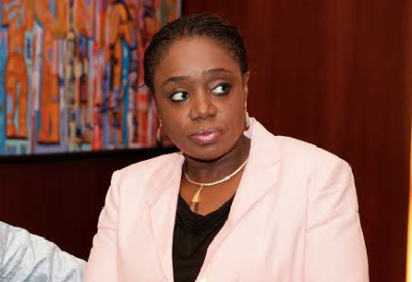 Kemi Adeosun
By Emma Ujah, Abuja Bureau Chief & Johnbosco Agbakwuru
ABUJA—The Federal Government has released N1.248 trillion for capital projects, Minister of Finance, Mrs Kemi Adeosun, disclosed, yesterday.
Adeosun, who addressed State House correspondents after the Federal Executive Council meeting, presided over by President Muhammadu Buhari, also said the government had saved N68 billion on personnel cost in 2017.
According to her, this brings the aggregate savings by the government on personnel cost since 2001 to N288 billion.
She said:  "The final update I gave was the level of capital releases till date from 2017 and l gave details of the big four areas and then others.
"So, Power, Works and Housing got N301.89 billion, Defence 151.2 billion, Agriculture N119.9 billion, Transport N127.9 billion and other areas combined is N545.6 billion. So, the total capital budget release for 2017 so far is N1.248,310 trillion.
"We haven't closed yet. We are confident we will close the year roughly around where we closed last year. We will close around N1.3 trillion mark. So, our commitment to infrastructure spending remains very strong. That is what is going to drive growth of the economy. That is what is going to drive jobs."
Govt saves N68bn on personnel cost, captures 511 MDAs under IPPIS
On the saving of N68 billion on personnel cost, Adeosun explained that the savngs were funds that would have otherwise gone unaccounted for, which she added, were now free for the government to fund capital projects.
She said the savings were achieved, despite increase in personnel, including the employment of 10,000 by the Police.
The minister confirmed that a total of 511 Ministries, Departments and Agencies, MDAs, had been captured under the Integrated Payroll and Personnel Information System, IPPIS, with staff count of 607,843.
"As at March 20,  2018 the number of MDAs on IPPIS Payroll is 469 with 316,158 staff count with gross salary of N43,979,383,997.78 and 42 Police commands and formations paid on IPPIS platform in February, 2018 with Staff Count of 291,685 and gross salary of N22,276,669,257.21.
Recovers N9bn from whistle blowing policy
Meanwhile, the Finance Minister also said the whistle-blowing policy introduced by President Buhari's administration has helped  to save about N9 billion.
Adeosun, who disclosed the money recovered from the whistle blowing policy, explained that the money was in the region of N7.8 billion, $378 million and £27, 800.
The amount was for the matters that the Federal Government has concluded every litigation sorrounding them and commissions that accrued to those behind the information
She said:   "I gave an update on whistleblowing policy which was another memorandum approved by FEC – the number of tips we have had, the number of investigations we have dealt with, the types of monies that have been recovered through the whistleblower policy.
"I also reported that the whistleblower team has recently come back from a trip to the UK The United Kingdom government was giving us trainings on whistleblowing, how we should institutionalise it. The team spent sometime with revenue office in UK. They spent sometime in Customs office and they took them through what they have been able to do.
"I will be bringing the memo to the council. One of the things it has achieved is prevention. When they get the tips, they use it to block avenues for leakage. We have had a significant number tips. So, we will be coming back to institutionalise whistleblowing as a structure. It has become central part of fighting corruption, giving us valuable information. Basically, whistleblowing is here to stay, giving us useful information.
"I gave an update on DMO and our debt structure. FEC approved a three-year debt strategy to reduce our reliance on short time borrowing, particularly treasury bills, 91 days treasury bills, costing us 21 per cent and moving from domestic borrowing into external borrowing.
"When we came in, what were owing was 84 per cent domestic and 16 per cent external borrowing. We have moved to 77:23 as a result of Eurobonds that we have done and refinancing of maturing obligations.