Prince Okafor and Bose Adelaja
FUEL scarcity has over the years become a recurring decimal in Nigeria, a problem that has intractably defied every solution by successive administrations in a country which is a major crude oil producer, but ironically a major importer of refined petroleum products.  Once rumour begins to circulate that there is shortage or short supply of premium motor spirit, PMS, otherwise known as petrol, to filling stations, one of the first sure signs that there is scarcity of fuel in town is the presence of long queues of vehicles at filling stations with an army of jerry can-wielding buyers in tow.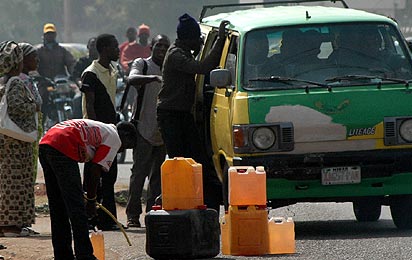 Back market  hawkers
But the confirmation that the situation has indeed taken a turn for the worse is the presence of black market hawkers of petrol at every nook and cranny of the towns, especially close to the filling stations, including those that supposedly have no fuel to sell. For those engaged in this kind of business, such time of fuel scarcity represents a season of boom.
But it has since emerged that given the frequency of petrol scarcity in the country, black market hawking of the product may have come to stay as a regular business enterprise. The business has been thriving even when the country is not experiencing fuel scarcity. Reason? The returns are quite lucrative which is an incentive to carry on, especially when the law against it is enforced in the breach.
Against this backdrop, black market dealing in petroleum products has  continued to rise in recent time, especially when the product is not readily available in certain areas due either to short supply, the absence of filling stations or the prohibitive cost of servicing the few there as a result of bad roads and other accessibility constraints.
How black market fuel dealers source the product
Investigations revealed that the thriving illegal sale of fuel is mainly sustained by illegal bunkering and pipeline vandalisation.
A trader who preferred not to be named, confirmed this, adding that the fuel comes mainly from illegal bunkering and vandalised facilities in the Niger Delta and other parts of Nigeria.
Indeed, it was revealed that many of
the petrol stations in Lagos also source their petroleum products mainly through bunkering as they pay less at the point of purchase since the money realised does not go to the authorities concerned.
They buy at lesser prices and even sell below the pump price in some areas. This is when the commodity is in full supply to the filling stations or fuel market operators.
Fuel hawkers everywhere
Investigations during the peak of the current scarcity revealed that at Beachland Estate, Ibafon areas, Kirikiri terminals, Badagry (near the boundary of Nigeria and Benin Republic) and other border communities in Ogun State, a litre of petrol sold for between N200 and N250 depending on the buyers' bargaining skills.
Because of the lucrative returns, the illegal trade in petrol and other petroleum products has consequently continued to attract more Nigerians, especially the unemployed. In most of the places visited by Vanguard INSIGHT,  many illegal traders were seen retailing the product in jerrycans, drums, and tanks, and they were steadily patronised by commercial vehicle operators popularly known as danfo, keke and okada, as well as the regular taxi drivers, some private motorists and other individuals who bought for household uses in the various areas.
Vanguard INSIGHT discovered that this illegal fuel marketing usually starts from the depots down to street hawkers for those onshore, while those offshore get their supplies from incoming vessels or already discharged vessels that store products in their small tanks where the terminal operators that were supposed to receive the product cannot reach. Others engage in breaking up of pipelines for their own supplies.
A street hawker at Olodi Apapa, who simply wants to be addressed as Mrs. Ifeoma, told our correspondent that though very lucrative, the business was fraught with hazards and she did not hesitate to narrate some of the ordeals she encountered in the course of doing the business.
According to her: "One of my greatest challenges in this business is the Nigeria Police. Sometimes, it looks like they are working in collaboration with those that sell fuel to us. After receiving the product from our sources, policemen will arrive from nowhere and seize it without any question.
"That is why I now hide my Jerry can of petrol inside the gutter where I sell. Apart from that,  I also settle them. Sometimes I would give them N500 if they came on motorcycle, and N1000 if they came with their van.
"But recently I suffered a huge loss when some hoodlums stole 50 litres of petrol where I hid it. Since then, I have been double-checking my padlock to ensure there is no such unfortunate incident happening to me. Now that we are experiencing scarcity in the country, we get the product at high prices. This consequently lead to an increase to the price we sell to those that patronize us; that is, from N150 we are now selling at N200.
"I buy 25 litres at N7, 500, whereas before now we used to buy same at N5, 000. This means that at the end of day, I make about N1, 200 or more depending on how I sell. You can't compare using a one litre measurement to sell, with selling with a five litre gallon, the difference is clear; that's how I make more profit."
Illegal petrol sales business
Findings further revealed the complicity of tanker drivers in the entire illegal process of fuel dealing. They aid and abet the illegal sale of fuel through diversion of the product.
For instance, a tanker driver, before loading any of the petroleum products, negotiates a deal that fetches him about N100, 000 to divert the product to hawkers and illegal fuel marketers.
After loading, the driver comes out of the depot and discharges into a bucket that will be used to measure the quantity of the product supposedly to the value of the amount you gave him before entering the depot. The product might be either petrol, diesel or even kerosene.
A source who pleaded anonymity told our correspondent that one of the requirements for being allowed to do or take part in the business is one's ability to understand the use of buckets and Jerry cans in measuring the quantity of fuel to be sold.
"This jerrycan you see here is different from the ones used in houses or other places. We use petrol to expand the gallon. It's written 50 litres, but it's 25 litres extra after the expansion, sometimes more.
"This business is not for the faint hearted as the tanker drivers often abscond with the money without the payer getting the product.
Sometimes, you don't see the drivers again, or it might be up to two months or three before you meet the same driver who will now have a thousand and one excuses to give you for failing to deliver.
"So, we are always very careful and take precaution against these usual stories that touch the heart. Sometimes we follow the truck into the loading terminal as motor boys, or stay outside to clear a path for the truck to park then discharge into buckets we use for measurement.
"Sometimes, drivers load late in the night. And if you must get your product, you have to be awake, watching to ensure you don't lose your money to sharp drivers who delight in taking your money and disappearing into thin air," he added.
In the course of our investigations, we discovered that a drum which can contain about 250 litres of petrol, is sold at a price ranging between N35, 000 and N39, 000, depending on negotiation with the tanker driver or the sales representatives during the period.
Form of initiation
If it is during a period of scarcity like presently, it's sold at N40, 000 or more. Also, the current cost of getting a 50-litre gallon is around N8, 000, while the 25 litres is sold at N4, 500. It was also gathered that these dealers belong to a union which supports and encourages them in their sharp practices in this line of business. A source at Beachland Estate, where there are about three private depots, said that to be a full-fledged member of the union, you have to pay a registration fee of about N50, 000.
"N30, 000 is the outright union fee, the remaining N20, 000 is for drinks along with other kinds of stuff for those that are already in the business to complete what will appear as an initiation process. This gives you total protection from any kind of forces. The same situation is applicable at Ibafon area along Oshodi Apapa expressway.
Investigations revealed that among the most popular spots for illicit trading in petroleum products are Isawo in Ikorodu, NNPC area at Mosinmi Junction of Ikorodu/Sagamu Road, Ogun State, Arepo, Ogun State, Majidun/Ikorodu and Takwa Bay in Lagos Island to mention but a few.
A visitor to these areas at any time of the day will not fail to see many black market operators in business and openly calling for customers with the products displayed in kegs and bottles.
Also not to be missed in such illegal settings are rough-looking fellows brazenly displaying Indian hemp on trays for sale with their army of patrons smoking away in daring abandon.
To complete the picture of confusion that defines such places are bottles and sachets of alcoholic drinks that are readily available for consumption, especially by the arms-bearing security guards obviously contracted to keep watch around the scene/market and to provide protection to these dealers in case of a  raid by law enforcement operatives.
Fuel hawkers were actually agents of petrol stations staff
The latter is not the case at Mosinmi,
Sagamu Road, a popular black market for petroleum products, particularly PMS, presumably because the dealers operate along a major road.
In their case, as soon as a motorist slows down around the vicinity, they rush out to make their sales pitch, each imploring the driver to patronise him or her.
Investigations also revealed that petroleum tankers don't discharge their content completely to their designated petrol stations and the undischarged product is instead sold to the black market dealers.
During the peak of the current fuel scarcity, a keg of 30 litres sold for N3, 700, while five litres sold for about N600. It was also observed that most of the fuel hawkers were actually agents of petrol stations staff. They get their stock of fuel from the filling station staff who  usually sell to them in large kegs and also encourage them to stock the commodity for sale after the stations have exhausted or pretended to have exhausted their stock.
Some of the petrol hawkers who spoke on condition of anonymity told Vanguard INSIGHT that many filling station attendants always allow their agents to buy as many times as possible while they deny the genuine end users the opportunity of getting the commodity even while queuing for hours with their vehicles or gallons.