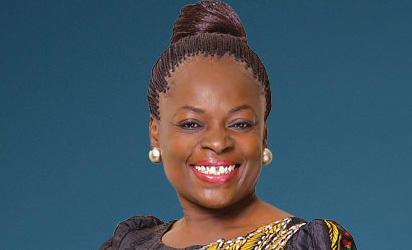 Itoro Eze-Anaba
…FIRST NIGERIAN TO BAG C'WEALTH POINT OF LIGHT AWARD
By Morenike Taire
Itoro Eze-Anaba, an anti-rape activist, made history when she became the first Nigerian to receive the Commonwealth Point of Light Award from Queen Elizabeth 11 of England.
Before then, Itoro had been invited to participate in the US Department of State International Visitors Program on Trafficking in Women and Children and in the exchange program of the Law Society of England and Wales.
In 2005, she received a scholarship from the American Association of University Women (AAUW) for her LLM Masters in Law programme at the American University, Washington College of Law, Washington DC where she specialized in Gender and the Law.
On her return to Nigeria, she established the Partnership for Justice, a non- governmental organization with the mission to provide an innovative range of services to promote and protect human rights. She is presently the Managing Partner.
She is also the recipient of many other awards including the Best Female Graduating Student, Faculty of Law, University of Calabar and the Outstanding Research and Writing Award, LL.M 2006 from the American University Washington College of Law, US.
In addition to being a researcher and an international consultant, she has served as a resource person in several international events on issues affecting women in Nigeria and Africa.
Itoro is a football enthusiast.
Awards are not new to you, so what is significance about this one?
This award is really special to me and all of us at the Mirabel Centre. It is from Her Majesty the Queen, the Head of the Commonwealth. I am the first Nigerian to be given the award. It is in recognition of the impact the Mirabel Centre has had on the lives of survivors of rape and sexual assault in Nigeria. It is significant especially now that the Mirabel Centre is looking for funds to erect a building that will provide a good environment for survivors to receive the professional treatment we provide at the Centre. It will motivate us to do more.
Have you enjoyed this kind of honour at home?
I may not have received an award similar to the Commonwealth Point of Light award at home but that does not indicate lack of support. Lagos State government, especially the Òffice of the Attorney General, has been very supportive of the Centre. The management of Lagos State University Teaching Hospital, LASUTH, led by the Chief Medical Director, also gives us all the support we need.
Individuals and organizations have also recognized the importance of the services we provide. Of great significance to us is the belief and confidence our clients have in us.
It is also important to note that breaking the silence on rape and seeking professional help is new to our environment. The fact that different state delegations visit the Centre in a bid to replicate same in their states is a clear indication of the progress we are making in this area.
Your co-awardees are also trailblazers in their service to their communities. In what ways are you planning to work together to rub off on each other and benefit from each other's experiences for the good of the people you serve?
I am the only awardee in Nigeria. However I hope that with time I will be able to meet all of them and benefit from their experiences.
Your work has brought rape and other forms of sexual abuse to the front burner. Is this a good thing?
It is definitely a good thing. Rape is evil. It is degrading and humiliating. It leaves something in you and takes something away from you. No human deserves to be raped. The consequences of rape can last a lifetime.
It does not only affect the individual it affects the family and the community at large. We need to talk about it, to demystify rape and give support to the survivor while ensuring that perpetrators are held responsible for their criminal acts according to the law.
What do you say to victims of such abuses at this time?
To all survivors my advice is, please, seek professional help. Come to the Mirabel Centre for free professional counseling and medical treatment. If you cannot come to the Centre, visit the nearest health facility. Always remember that it is not your fault. No matter the circumstances the rapist is criminal and not you.
In what ways can perpetrators be deterred?
One way is by ensuring that the legal system works and is sensitive to needs of the survivors. When a perpetrator receives the sentence of life imprisonment as provided for in Lagos State, it sends a clear signal to perpetrators that such actions would not be tolerated in the society. It also encourages more survivors to break their silence which in turn leads to more perpetrators being prosecuted.
We should stop being in denial about rape. Let us change the discourse and rather talk and stigmatize the survivor; let us name names. Let us publicize the perpetrator and drive him or her out of our communities. It is our responsibility to ensure that our children are safe from these evil perpetrators by saying No To Rape Now!
Surely there were times when you had just about had it and you were ready to give up? Can you share?
Not really. It was frustrating at times but at no time did I think of giving up. I could not forget the girl I met on the street who told me about her father raping her and when she summoned up courage to inform her pastor, he did not believe. I just could not forget her.
For 10 years, from 2003 to 2013, I looked for funds to set up a Centre but did not succeed until 2013, when DFID through Justice for All Programme provided the initial funding for the Mirabel Centre. I knew it will take time to get funding but I never thought it will last up to 10years.