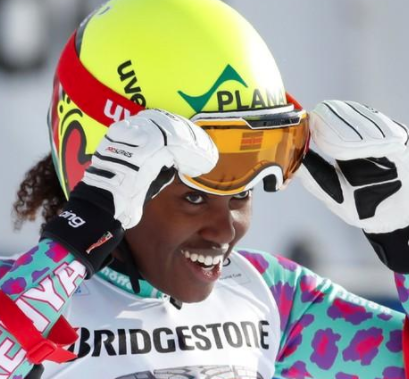 Simader
Sabrina Simader said it was a "dream come true" to be at the Winter Olympics as the first female alpine skier for Kenya.
Simader, 19, has lived in Austria since the age of three and has an Austrian father, but opted to take the Kenyan route to participating in the Pyeongchang Games.
"I am happy to go for Kenya, but there are some problems, it's not so easy," said Simader, who is accompanied in South Korea by three-time Olympian Philip Boit.
"The organisation is difficult because in Kenya skiing is not so well known.
"We are not professional in Kenya, we are still on our way up. But we made it to Pyeongchang and I am really glad for that."
Simader still has extended family back in the east African country and she said they had been "really supportive".
"My grandparents, aunties and cousins and a lot of other people are sending me messages saying 'We are behind you'.
"That motivates me. To perform excites me. I will give everything I have. I feel strong and in a good way."
As a one-woman team, Simader was the only person available to carry the Kenyan flag at Friday's opening ceremony.
"I was really proud. It's cool seeing a big team like Canada in front of you. That was funny," she said.
"It was emotional for me too because the world is watching. It's a dream come true."
– 'People thought I was a joke' –
Chef de mission Boit knows all about the learning curve of Africans taking up little-known winter sports, but said it was definitely not the case for Simader.
"For Sabrina, she grew up in Austria, on skis. It is totally different," he said.
"It was tougher for me. I was going from African temperatures to freezing winter temperatures" on a Nike programme to retrain Kenyan runners as cross-country skiers.
"I used to wonder why on earth I was doing it," he said. "I only started learning the technique when I was 20. I'd never skied before and I'm up against skiers who have been doing it since age two.
"Some people thought I was a joke, it was not nice. But I was very fit and I got better and better."
Boit came in last in the 10km at the 1998 Nagano Games, but beat five people in Salt Lake City in 2002 before bettering nine at Torino 2006. His plans for 2010 Vancouver Games were scuppered by malaria.
There will be no such worries for Austria-based Simader, who competed in the slalom at last year's world ski championships in St Moritz, her first leg time of 57.21sec leaving her in 61st position, almost 10sec off eventual winner Mikaela Shiffrin's time, and not qualified for the second run.
"I'm friends with a lot of the Austrian skiers because we train together," she said. "I'm not just on my own. The other athletes support me and are great friends."