By Sam Eyoboka & Olayinka Latona
FOLLOWING the success  of its  June 2017 holy war against kidnappers of students of Lagos Model School, Igbonla-Epe, in Lagos, who were arrested a few days after, General Overseer of The Redeemed Christian Church of God, RCCG, Pastor Enoch Adejare Adeboye, again,  on Friday  night, led a huge number of worshippers to declare war on all those who are shedding blood in Nigeria.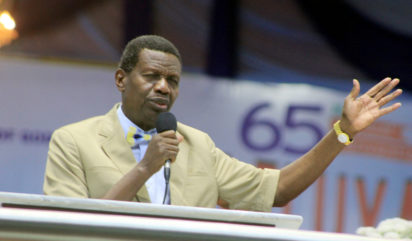 He led the large crowd of worshippers at the new 3 kilometre by 3 kilometre Arena, Old Arena, as well as numerous others in different viewing centers across the globe, and others watching on internet, to pray three Holy Ghost-anger-induced prayer points targeted at all those shedding innocent blood in different parts of the country.
Adeboye was, however, not specific whether the prayer points were targeted at the incessant violent killing of innocent farmers in different parts of the country especially Benue, Taraba, Plateau, Nasarawa, Ekiti, Ondo and other states in the Southern part of Nigeria which has left several dead.
When he took the microphone for the second message of February 2018's Holy Ghost Service with a theme; "Stronger than your enemies 2", Adeboye used the occasion to explain why he has been silent over several violent eruptions in different parts of country, noting that as a man under authority, he relies on the leadership of the Church to speak for Christians in general.
According to him, he has been receiving calls and text messages from people who want him to speak on the burning issues; he then said,  "as a Christian, I belong to the Christian Association of Nigeria, CAN, which has a president and whatever the president says, that is what I have said.
"I am a Pentecostal and I belong to the Pentecostal Fellowship of Nigeria, PFN, and whatever the president of the fellowship says, that's what I have said. That is how to be under authority. Amen."
Turning to members of RCCG who were present at the monthly Holy Ghost Service, including several political big wigs, he reminded them that as a trained mathematician who is a pastor by calling, he often finds it difficult to differentiate between the two vocations.
"I am talking to my children and not Nigeria as it were. This is not a Press Conference. I am addressing my children. There are two sides of me: one side is a mathematician and the other is a pastor. Somehow, I can't separate the two for long and so, before I ask you to pray I am going to spell out some equations which we will solve simultaneously, after which we will do what we should do.
Equations
Equation 1: There are certain problems beyond man.
Equation 2: There is no problem beyond God. Luke  18:27.
Equation 3: A man can hide from other men.
Equation 4: No man can hide from God. Psalm 139:7-12.
Equation 5: Security agents can be compromised.
Equation 6: God cannot be compromised; His holiness is not negotiable. Isaiah 6:1-3.
Equation 7: Man can sponsor evil. Esther 3:8-9
Equation 8: God cannot sponsor evil. Job  8:20.
"If you solve the above eight symultaneous equations, there is only one answer: The prayer warrior is more effective than the activist. If you put it in another way, a slightly deeper way, you will come to the conclusion or a corollary, that the enemies of God and the children of God make the same mistake.
"One mistake that is common to both the enemies of God and the children of God is that both of them underrate the power of prayer. The enemies of God underrate the power of prayer and we the children of God, underrate the power of prayer," he stated.
Continuing, Pastor Adeboye said: "But there are some of us who have come to realize that the weapons of our warefare are not carnal; they are mighty through God to the pulling down of strongholds. That's why I am calling on you, my children, I am going to ask you to pray some prayers  tonight  and I want to pray with the same energy or intensity with which you prayed the prayer against kidnappers when they kidnapped those school children and results came rapidly.
"I don't want you to pray like ladies and gentlemen  tonight, instead I want you to pray like the children of the Lion of Judah," he motivated the large crowd of worshippers before rolling out the prayer points.
Prayer Points
Father, wherever those who are shedding blood are hiding, expose them and deal with them. Go ahead and talk to the Alimighty God. They can't hide from You. You know where they are. Expose them, Lord, and deal with them.
Father, all those who are condoning evil, all those who are conniving with them, expose them and deal with them. All those who have been compromised by evil doers, expose them and deal with them. Almighty God, show Yourself mighty, Lord.
Father, all those who are sponsoring evil and bloodshed, expose them and destroy them. All those who are sponsoring evil and bloodshed, don't just expose them, destroy them. Holy One of Israel, arise and expose all those who are sponsoring evil and destroy them.
Father, anyone focusing on me, my family and Your Church for evil intentions, destroy them and wipe them out.
On any of the four prayer points, the congregation responded with holy anger, praying fervently.
We recall that a similar situation occurred in June, last year, when some school children in Igbonla-Epe, in Lagos State, were held in captivity for more than 25 days; the man of God also led the congregation in Holy anger in prayers for the rescue of the children and the arrest of the kidnappers. A few days after, the bubble burst and the children were reconciled with their parents.