…Gowon hails royal fathers for promoting national unity
By Etop Ekanem
Since his ascension to the throne of Okori in Eleme LGA of Rivers State, the Egbere Emere Okori 1 Eleme, His Royal Highness Appolus Chu has not relented in his efforts to transform the kingdom.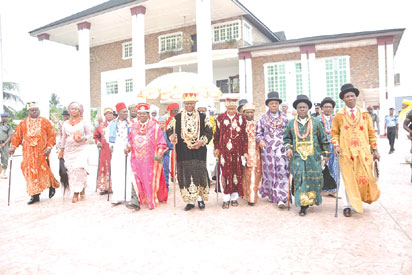 He has elevated the downtrodden through his Foundation which provides scholarships and aids hundreds of people, including non-indigenes in Eleme, economically.
One of his recent activities was the opening of the palace of the Egbere-Eleme Okori Eleme Kingdom.
The occasion also witnessed the dedication of a new church building of the Commonwealth Covenant Church located in Okori.
A former Head of State, General Yakubu Gowon (retd), who attended the dedication, described the event as unprecedented. He said: "The array of people here from all parts of the country gladdens my heart. And honestly it has been long that I have been able to see all Nigerians gathered in one place to pronounce our love for the country and this is really what Appolus Chu has done.
"When you came to see me, you didn't tell me that you are asking all Nigerians to be here. You are trying to sort of build the unity of this country. I must say I'm really impressed that Nigerians from all parts of the country are here. And to see you invite your colleagues and for me to be robed as a chief of Okori, I really appreciate it."
Speaking on his decision to bring together Nigerians from all parts of the nation, HRH Appolus Chu said: "I have noticed that communication is one of the major problems of most of us that gathered here today.
Even in our communities and the nation as a whole, communication has been our major problem. We have found it difficult to come together in unity to sit and address issues that are of interest to us and the nation as a whole. Coming together to discuss one common issue and expressing ourselves has been a problem to us.
We conceived our feelings and then hold onto them without expressing them, which come in form of grievances, bad feelings anger, ill-thoughts and so on, we then turn it into action which comes in form of blackmail, restiveness, killings and then sentiment.
I then asked myself, where I can come in one day to ensure that we come together and express our feelings without rancour and sentiments."
In his welcome address, the Chairman of the occasion, the Amanyanabo of Nembe Kingdom and Chairman, South-South Monarchs Forum, Edmund Daukoru (Mingi XII), described Appolus Chu as a king who he had done something beyond kingship.
Also speaking at the event, the Etsu Nupe and Chairman, Niger State Council of Traditional Ruler, HRM, Dr. Yahaya Abubakar, described the occasion as a milestone in the fight for the unity of the country.
On his part, the Oluwo of Iwo, Oba Abdul Rasheed Adewale Akanbi, described King Appolus Chu as a great man
The coordinator South-East Council of Traditional Rulers and Chairman, Abia State Council of Traditional Rulers, His Eminence Eze (Dr.) Eberechi Dick, said, "There is extreme joy in our hearts that a fellow traditional ruler has done so well. And today he has assembled the whole nation to witness what is happening in his kingdom. We are here to associate ourselves with you. And we are saying that what you have done for you people; you would continue doing more and more. And we pray that the almighty God will help us to be like you."
Presentation of cash and other items were also made to beneficiaries of the HRH Appolus Chu Foundation. Explaining the impact of the Foundation so far, Coordinator, HRH Appolus Chu Foundation, Promise Ikharine, said the foundation had empowered over 700 people.