Five things we learned from the
Manchester City took a huge step towards the Premier League title with a vital victory at rivals Manchester United.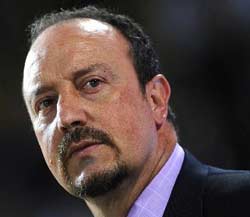 Chelsea's title defence looks all but over after a miserable loss at West Ham United, while Wayne Rooney's first Merseyside derby goal earned Everton a draw at Liverpool.
Here are five things we learned from the Premier League this weekend:
Ghosts in machine foil Mourinho's bid to spook City
Jose Mourinho set his stall out nice and early ahead of the Manchester derby. The days leading up to the game were accompanied by a familiar drip-drip-drip of jibes –- about City's alleged propensity for diving and "tactical fouling" and opposite number Pep Guardiola's right to wear a ribbon in support of Catalan separatists –- in a bid to get inside his opponents' heads.
His tactical approach was familiar, too – a back four, two midfield scrappers and four quick players on the break. But the tried and tested Mourinho formula was fatally undermined by set-piece sloppiness, with Romelu Lukaku particularly culpable, that enabled City to pull off a 2-1 win and move 11 points clear at the head of the table. Mourinho was left to fall back on another similar tactic – blaming the referee, in this case for failing to award Ander Herrera what would have been a dubious late penalty.
Chelsea see their title hopes Hammered
Antonio Conte's champions delivered a lethargic display on Saturday. Even against an improving West Ham, Conte would have expected more, but instead the 1-0 defeat left the Italian conceding that hopes of successfully retaining the title are over.
Despite complaints that his squad is too small to cope with the extra matches, the side he turned out should have had enough to at least share the points, but there was no spark even from the reliable Cesc Fabregas while Eden Hazard drifted in and out of the match. It was a welcome boost for West Ham counterpart David Moyes, who has had little to smile about since his return to the dug out.
Spurs would happily play Stoke every week
'Can we play you every week?' is an English terrace taunt that tends to be heard when a team are coasting to victory and in the case of Tottenham Hotspur and Stoke City, it is particularly apposite. Spurs' 5-1 win over Stoke made Mauricio Pochettino's side the first team to win four successive games against the same opponents by four goals or more in the history of the English top flight, following three previous 4-0 victories. Son Heung-Min starred and Harry Kane scored twice at Wembley as Spurs brought an end to a four-game winless run that put paid to their title ambitions. Stoke will not be looking forward to April's return fixture.
Klopp gamble misfires
The gasp was audible when the Liverpool team was read out over the Anfield public address system, and the next thought was the same for most Reds fans — had boss Jurgen Klopp lost his mind after leaving star forwards Philippe Coutinho and Roberto Firmino on the bench?
Klopp's decision to rest the Brazil duo backfired badly as Liverpool were unable to turn territorial dominance into a Merseyside derby victory over Everton. Despite leading through Mohamed Salah's latest stunner, the Reds were pegged back by Wayne Rooney's late penalty. Klopp complained that the spot-kick shouldn't have been awarded and blamed the need to rest Coutinho and Firmino on Liverpool's draining European exploits in midweek. Whether those excuses will appease the devotees on the Kop is another matter.
Benitez under fire again
Things are turning sour on Tyneside, where one point from seven games and elongated takeover talk has left Newcastle United in the thick of a relegation battle and boss Rafael Benitez under fire.
A 3-2 home loss to Leicester City could prove a defining moment for the Magpies and their coach. Without cash for reinforcements in the January transfer window, it is increasingly tough to imagine how long Benitez will sit it out in the north-east as the natives grow more restless less than a year after he led them to promotion.
Subscribe for latest Videos