Civil Engineers have lauded the performance of Governor Rauf Aregbesola especially in the realm of ground breaking infrastructural facilities across the State of Osun.
This is coming as the Engineers declared that the administration of Governor Aregbesola has exceeded Global Standard for GDP-to-Infrastructure Ratio with the several completed and ongoing infrastructural projects that ducts the state.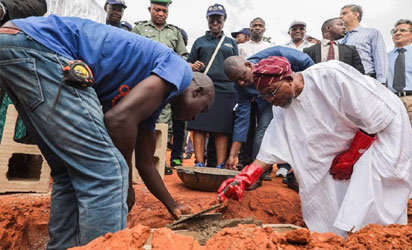 At a dinner of the association in Osogbo, A former Deputy Vice Chancellor, Ekiti State University, Prof Olugbenga Aribisala who spoke on the theme "Infrastructural Development: An Index For National Development"  encouraged government to spend 6% of its GDP on Infrastructure.
At the event, the Engineers acknowledged the uncommon record of the Governor in giving Osun the needed infrastructural facelift for economic growth.
Aribisala said that "The Osun State Government has shown a very great example of government funding for infrastructural projects. I want to state here unequivocally that Osun State has exceeded the figure recommended for infrastructure development."
According to him, diversification of the economy will remain impossible without infrastructure.
Also, the National Chairman, Nigerian Institution Of Civil Engineers, Andem Ekpo-Bassey, commended the level of infrastructure development in the state.
"From what I saw today, it is very impressive to me. There are some projects that are recreational projects, there are some projects which are political projects but there are some projects that are human driven projects. These are the kinds of projects that your Governor has really done."
"As an institution revolving in policy and recommendations, we can rightly confirm that seven years of his government in the state has been numerous number of big civil engineering projects across the State of Osun."
Governor Rauf Aregbesola was at the event presented with an Award of Grand Achiever Of Infrastructural Development.