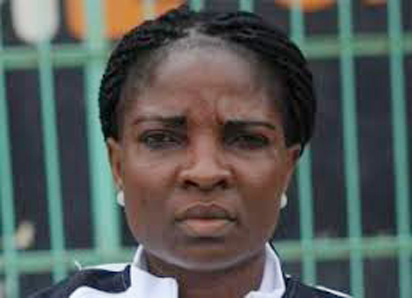 Omagbemi
By Ben Efe
Former Super Falcons captain and coach, Florence Omagbemi has hinted that she could return to the job after American coach, Randy Waldrum turned down the offer to lead the national women's team.
Omagbemi was unceremoniously eased out of the team after winning the Africa Women Cup of Nations in 2016. A hard fought battle against the Indomitable Lioness of Cameroon who were hosting the tournament.
A source close the former midfield maestro said as a Nigerian, Omagbemi  has always been ready to serve the country; and if approached by the Nigeria Football Federation, she will be willing to listen and start from where she stopped.
"Omagbemi is passionate about the national team. As a player she did so well and as a coach she proved that the team was in a good hand. The Super Falcons were the most improved team in Africa under her tenure.
"Everything depends on the NFF. They hold the yam and the knife and even at that… they should consider ex-players of the Super Falcons for the coaching role. That is the trend in Africa now; going for the American in the first place was counter-productive," said the source who is a female football administrator.
It was gathered that Waldrum and the NFF  did not agree on conditions and coach took up a job with the University of Pittsburgh women's team. Explaining his decision not to come to Nigeria, Waldrum disclosed in a letter that the NFF only offered him a job, but did not negotiate contractual terms with him.