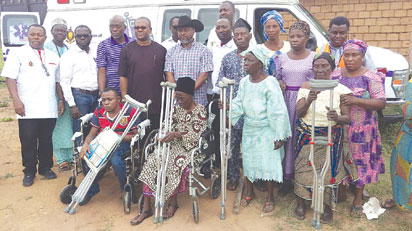 Akpowone (left, front row), fellow villagers and NAS members during the outreach
By Johnbosco Agbakwuru
A 31-year-old crippled man, Mr. Nelson Akpowone, says he has been crawling on the ground for over 20 years.
Akpowone got emotional while receiving a wheelchair during a medical outreach organised by the National Association of Seadogs (NAS) for residents of Ilodo-Ijebu and environs in Ijebu-East Local Council Development Area of Ogun State.
He said the wheel chair would enable him move round, adding that he would wish to further his education.
The crippled man said, "I commend NAS for this rare gesture because I have been crawling on the ground for 20 years and, with the wheel chair, I can move around. I am planning to study further if help comes my way."
Another 88-year-old woman, Mrs. Oyinade Erugbe, who also got wheel chair following her inability to walk, also commended NAS for the gesture.
In an emotion-laden voice, Erugbe said, "I am elated that this association has come to my rescue by donating this wheel chair and crutches to me. I had wished for a long time."
More than 250 other villagers benefitted from the free medical mission.
Speaking at the occasion, the National President of NAS, Chief Arthur Boje, said the community was singled out for the medical mission as a result of lack of primary healthcare centre in the area.
Boje, who ascribed the failure of leadership to the poor healthcare delivery in the country, explained that the mission was part of the activities to mark the NAS Quarter One Pyrates Working Committee meeting held in Ijebu-Ode.
The NAS leader, who is a United Kingdom based lawyer, said Nigerian leaders should be ashamed of themselves for their inability to provide social amenities for the people who elected them.
He said, "We go to neglected community and it is basically due to the failures of our various leaders to provide healthcare facilities in remote areas, just like this. We are here to provide free medical facilities, free medical care to the communities that are disadvantaged".
The Coordinator of NAS in Ijebu-Ode and environs, Mr. Jamal Apena, said the choice of Ilodo-Ijebu for the medical mission was to draw government's attention to the plight of the people.
At the end of the one-day exercise, the NAS Head of Medicals, Dr. Bassey Ntekim, said the medical team was able to examine 256 people for health challenges ranging from hypertension to diabetes, malaria, chest pain and eye test.
He said they also de-wormed all the children in the community, saying they also came with ambulance in case of any emergency