As the Season 5 of popular TV comedy series, Professor Johnbull, sponsored by Globacom, begins this week, two actors making their debut on the show are Angela Okorie and Osita Iheme, popularly known as Pawpaw.
According to a preview of Episode 1 of Season 5, entitled Running to the City, which will go on air at 8.30p.m. today on NTA Network, NTA International on DSTV Channel 251 and NTA on StarTimes, Okorie and Pawpaw have been introduced to the home of Kanayo O. Kanayo— Professor Johnbull.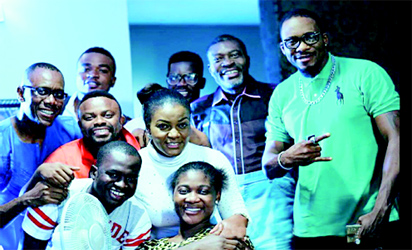 Repeat broadcast is on 8.30p.m. on Friday, on same channels.
While Pawpaw comes in for Churchill (Jnr. Pope Odonwodo), the scholar's son, who has travelled to the United States of America for further studies, Okorie replaces Mercy Johnson-Okojie, who played the role of Caroline, the professor's housemaid.
Johnson-Okojie has taken time off the series to attend to family.
Also, Professor Johnbull's daughter, Elizabeth (Queen Nwokoye), who was away for some time because of a medical treatment abroad, makes a comeback in Running to the City.
The professor's home
She is saddled with the task of mentoring the two new members of the family, Nje (Angela Okorie), a village Cameroonian, who grew up in the professor's country home, and Jeroboam, a.k.a Boam (Osita Iheme), who is reputed to have tended the scholar's father's herd back in the village.
Before now, the paths of Professor Johnbull and his new housemaid had crossed, as he is revealed to have come to the rescue of Nje when she got pregnant some years back in the village and was treated as an outcast.
The entire Professor Johnbull household is also portrayed as very accommodating, as they all rally round to welcome and integrate Nje and Boam into the family. The professor also rejects all efforts by the gateman, Abednego (Martins Nebo), to prevent Nje and Jeroboam from gaining access to Professor Johnbull.
The scholar welcomes them with open hands, saying they are "my people."
The restaurateur, Olaniyi (Yomi Fash-Lanso), is confirmed to be the ultimate philanderer as he turns full circle to profess his love to Nje on the grounds of having the same complexion as her. Expectedly, his arch rival, Mai Doya (Funky Mallam), wastes no time in reminding Olaniyi of his love for Caro and queries why he must love every girl in Professor Johnbull's house.