By Gabriel Enogholase
NATIONAL Chairman of All Progressives Congress, APC, Chief John Odigie-Oyegun, has said that the change promised by his party has to do with basic restructuring of the society and total rebuilding of the economy, which he said was run down by the previous administration of the Peoples Democratic Party, PDP.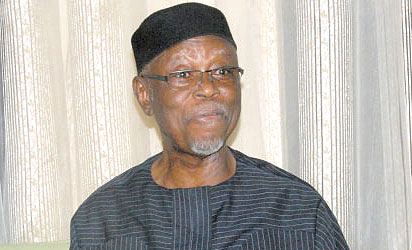 He also said that the APC will take advantage of the crisis rocking the PDP and the All Progressive Grand Alliance, APGA, to win the November 18  governorship election in Anambra State.
Chief Oyegun who spoke with journalists in Benin weekend while reacting to a question on how Nigerians have been faring in spite of the change promised by his party said, "Change has to do with the way people lives, it is a basic restructuring og the society. We have got to a level where we don't k now the difference between rights and wrongs.
"We have the case of those who benefited the system are very ready and determined to fight back. So, we have a President who insists that things must be done according to due process and the law of the land.  The change is that we are rebuilding the economy which was run down and this real. Part of the change is that we are totally rebuilding the Nigerian economy. You know the conditions of our roads across the country and if the roads were built in the last few years, we they will not broke down totally.
"The Buhari government is trying to give the nation a brand railway system which is the backbone of any economy, we are trying to improve on our electricity generation, providing power in spite of the billions of Naira that have been filtered away by the previous administrations and we are building a new national carrier to replace the defunct Nigeria Airways.
"So, it is no longer business as usual and people must complain. Even my followers in Abuja are also complaining. Nigerians should exercise patience and support this government to ensure that things are properly done and at the end of the day, we will all smile."
On the forth coming Anambra State governorship election he said, "I can conveniently tell you that the chances of APC's candidate, Mr. Tony Nwoye wining Anambra governorship election are very bright. You can see the caliber of people that came out during our flag-off campaign in Awka. The crowd alone is a signal that the moving train of the party and its candidate is few kilometers away to Government House in Awka. That is to tell you that APC is ready for the election".