By Ndahi Marama
MAIDUGURI—The feats of security forces in the defence of North-East, following Boko Haram's activities, received commendations yesterday, as the Presidential Investigative Panel set up to review compliance of troops with human rights obligations and rules of engagement commenced sitting in Maiduguri, the Borno State capital.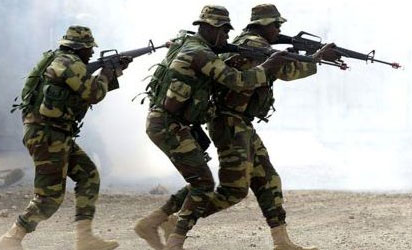 Chairman of the Panel, Justice Biobele Georgewill, gave the commendation while declaring the sitting open.
He noted that insurgency was an asymmetric war, which posed great challenges for professional armies, and most times leads to allegations of non-compliance with human rights obligations and rules of engagement by the Armed Forces and other security agencies.
The Presidential Investigative Panel was inaugurated by the Vice President, Professor Yemi Osibanjo (SAN), then Acting President, on August 11, to review the extant rules of engagement of the Armed Forces and extent of compliance.
The panel was also charged with the responsibility of investigating acts of violation of international humanitarian/human rights laws under the constitution, investigate matters of conduct and discipline in the Armed Forces in local conflicts and insurgency.
In his address to the panel, Borno State Commissioner of Justice and Attorney General, Kaka Lawan, said there was considerable improvement in dealing with issues of human rights by the Armed Forces.
He noted the need to reactivate the Committee on Congestion of Detention Centres of Suspected Boko Haram members in the state, adding that access to detainees should be granted to families and legal counsel at all times.
… as troops repel attacks from Sambisa
Meanwhile, troops of 26 and 28 Task Force Brigades repelled an early morning attack by fleeing Boko Haram terrorists on military locations at Pulka and Bitta on the fringes of Sambisa Forest, yesterday.
Acting Director of Army Public Relations, Brigadier General Sani Usman, who disclosed this in a statement yesterday, said: "Troops of 114 Task Force Battalion came under three-pronged attack by Boko Haram terrorists, fanning out of Sambisa Forest from Damboa, Tokumbere and Pulka axis."