The Peoples Democratic Party (PDP), National Caretaker Committee, has advised leaders in the South-East to take actions to allay fears and address grievances of the people within the region.
The National Publicity Secretary, Mr Dayo Adeyeye, gave the advice in an interview with newsmen on Saturday in Abuja.
Adeyeye granted the interview when he received a delegation of Communists Party of China led by Dong Weihua, who visited the party.
"I believe that IPOB may have been allowed to be an organisation of mainly young elements.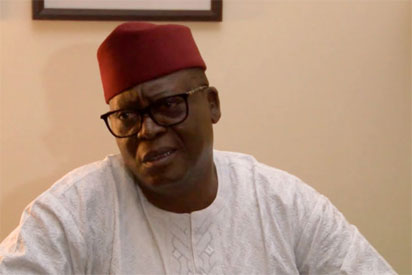 "Young elements who are out to fill a vacuum that they see as created by their leaders not taking appropriate action to address their grievances.
"It is now time for the leaders to act and fill those gaps and allay the fears the people that they will not be persecuted or marginalised.
"I believe that the governors have acted in the best interest of the country,'' he said.
Adeyeye also advised IPOB leaders to be clear on their demand, as well on their tactics and strategies for pursuing such demands.
"If you say you are non-violent, you should not be provoked into acts of violence.
"They should be able to study the tactics employed be the civil right groups in the United States.
"If you believe in non-violence, you should study the tactics employed by the civil rights group in US led by the great Martin Luther King jnr. so that they will not be provoked under any circumstances.
"There was an instance when Martin Lither was beaten up and slapped during his struggle but he refused to react: that is the tactics of non-violence.
"It has been employed in many parts of the world with great success."
Adeyeye, who commended the steps taken so far by the South East Governors Forum to ensure peace and stability within the region, however faulted the declaration of IPOB as a terrorist group.
He said it was not in the power of the military, but that of the NASS and relevant government agencies to declare an organisation a terrorist.
"I believe there are processes and procedures to be followed before such can be done.
"It is not in the powers of any organisation, especially the military, to unilaterally declare any organisation a terrorist organisation."
On the plan of the All Progressives Congress to hold public hearing on the issue of restructuring, Adeyeye described it as a delay tactic.
He said it was the responsibility of the National Assembly to hold public hearing and not a political party.
NAN