By Babajide Komolafe & Emma Ujah
CENTRAL Bank of Nigeria (CBN), governor, Mr. Godwin Emefiele, yesterday, said the apex bank will sustain the use of intervention funds and exchange rate stability to encourage domestic production.
He stated this in Awka, Anambra State, at a seminar organised by the bank for finance correspondents and business editors.
Emefiele who was represented by Acting Director, Corporate Communication Department, Mr. Isaac Okorafor, said: "CBN will continue to explore further avenues to ensure that interest rates are supportive of domestic production needs. The bank will continually fine tune measures to ensure and guarantee a stable exchange rate regime."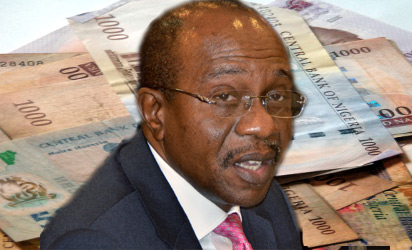 Speaking on the theme of the seminar, he said: "The theme selected for this seminar: 'Import Substitution and the Dynamics of Interest and Exchange Rates Management in Nigeria' is indeed topical, given recent collaborative efforts to stimulate real sector activities in Nigeria and bolster economic growth. This is quite significant for CBN in view of its various interventions, mainly to provide cheap financing for critical sectors and to enhance domestic production.
"Administrative measures to reduce imports may not be compatible with current trends in economic management that lean towards free markets. While these may not be completely dismissed, I would like to note that fundamentals of the domestic environment need to be promoted to support domestic production and invariably curtail imports.
"CBN recognizes these challenges in its role provide economic advice and support the Federal Government's aspirations for economic growth and development. Within the core remit of formulating and implementing monetary policy, the interest and exchange rates serve as major instruments for CBN's support for import substitution.
"The bank has consistently sought to formulate interest and exchange rate policies that are conducive to the development of domestic private industrial activities, while taking due cognizance of other macroeconomic variables. A major challenge has been structurally-induced inflation, which has presented a dilemma to policy makers on whether to align the rates with socially desired or policy consistent outcomes.
"Indeed, CBN has embarked on massive monetary stimulus through direct interventions in sectors that hold immense benefits for the broader economy. Such interventions have been in agriculture, micro, medium and small scale enterprises (MSMEs), power sector, aviation and youth entrepreneurship, among others. These measures were necessitated by the liquidity (and credit) crunch that followed the global financial crises."