By Pastor Layi Bamidele
When your heart is truly open your heaven will be opened. Faith is the principal tool you need in the school of Dominion. In Acts 6:7, the bible says: "And the word of God increased, and the number of the disciples multiplied in Jerusalem greatly, and a great company of the priests were obedient to the faith".
If God must move, faith is the only key you can use to move Him. Hebrew 11:6-7 says: "But without faith it is impossible to please him, for he that cometh to God must believe that he is, and that he is a rewarder of them that diligently seek him."
By faith Noah being warned of God of things not seen as yet, moved with fear, prepared an ark to the savings of his house, by the which he condemned the world and became heir of the righteous-ness which is by faith.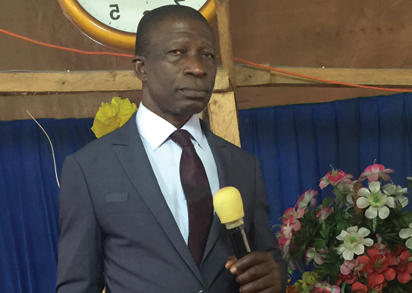 What do we mean by Faith? Hebrew 11:1 says: "Faith is the substance of things hoped for, the evidence of things not seen."
Faith can also be referred to as tapping into divine virtue for quenching all opposition. The Bible refered to Abraham as the father of faith, because Abraham believed so strongly in God, that even when he had no hope of bringing forth another child, when God told him to offer his only child unto God as a sacrifice unto him, he opted to please his God. God wasn't interested in killing Isaac, but God was testing him to know the genuineness of his faith.
The level of your greatness in life is determined by the level of faith you exercise. When your faith is alive, then God will be committed to your case. Another man of great faith like Abraham is the man called NOAH.
It takes faith in God for our father in faith, Pastor E.A. Adeboye to have gone to that wilderness known today as the Redemption Camp to stay there alone, saying he has heard the voice of God. But by faith, he believed what God told him and he acted in faith, today to the Glory of God, God has used our father to turn that wilderness to a city where millions from all over the world gather every month for salvation, heal-ings and redemption of souls.
Another father of faith in this country is Bishop David Oyedepo who God used to transform an evil wilderness to a land where destin-ies are being molded and where great men and women are raised.
It also takes faith for Apostle Joseph Ayo Babalola of CAC, to have gone to a mountain top in 1937 at Efon Alaaye, Ekiti State inside a thick forest. Today the place has turned to a place where people gather to celebrate God. I have benefited immensely in the ministry. I was not trained in CAC, but God gave me Babalola's call, and ever since I've been climbing from mountain to mountain as ordered by God.
There are three dimensions of faith in the Bible that I know. What am saying is that faith is in three dimensions.
You must have faith in God. Mark 11:22-23 says: "And Jesus answering saith unto them, Have faith in GOD. For verily I say unto you, that whosoever shall said unto this mountain, be thou removed and be thou cast into the sea, and shall not doubt in his heart, but shall believe that those things which he saith shall come to pass, he shall have whatsoever he saith."
The second dimension of faith is that you must have faith in his words, i.e. you must believe every word of God that is written in the Bible. Hebrew 11:3 says:  "Through faith we understand that the worlds were framed by the word of God, so that things which do appear," also Psalms 33:6, says: "By the word of the Lord were the heaven's made and all the host of them by the breath of his mouth.
The third dimension of faith is that you must have faith in his messenger i.e his sent servant. Matthew 10:40-41 says: "He that receiveth you receiveth me, and he that receiveth me receiveth him that sent me.
He that receiveth a prophet in the name of a prophet shall receive a prophet's reward and he that receiveth a righteous man in the name of a righteous man shall receive a righteous man's reward. It takes your trust and confidence in his sent servant for your life and situation to take a new turn.
Unbelief is the reason why most Christians today cannot have anything to show for all their efforts in life. The moment you carry the spirit of doubt in God, you are already a failure. The principal key that can make a man to make a mark in life and dominate in life is FAITH.
*Bamidele is General Overseer, Christ Glorious Endtime Evangelical Church, Lagos. Pastor.bamidele@gmail.com