By Jeremiah Urowayino
The member representing the Warri Federal Constituency in the House of Representatives, Mr. Daniel Reyenieju has commended the Pan-Niger Delta Forum (PANDEF), for being steadfast, honest and uncompromising in its discussions with the Federal Government, particularly in the demand for the relocation of both the administrative and operational headquarters of oil companies to their major areas of operations.
Reyenieju made this disclosure in an interview with newsmen in Warri,yesterday.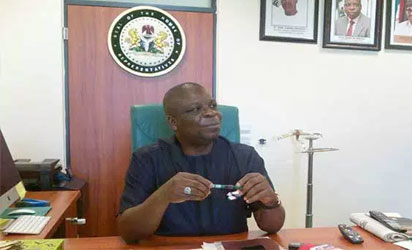 The federal lawmaker urged the different ethnic groups in the Niger Delta region to cooperate with PANDEF, while lauding the current efforts of the group towards redressing the wrongs wreaked on the oil-bearing communities in the region by the transnational oil companies and the government.
He also appealed to the youths of the region not to take any action capable of undermining the current level of oil production or truncating the ongoing peace in the region; as PANDEF is currently taking all necessary steps to get the Federal Government to redress the injustice of the past.
Reyenieju applauded PANDEF's call for the dredging of the Excravos Bar and the revitalization of the seaports in the region; specifically those of Koko and Warri; and the restructuring of the Niger Delta Development Commission to ensure fair distribution of development projects based on quantum of oil production.
The lawmaker further commended PANDEF in its commitment and unwavering call for restructuring of the federation, noting that Nigeria will remain susceptible to endless crises, underdevelopment and instability, if the current unitary system and over-bloated federal government subsists.