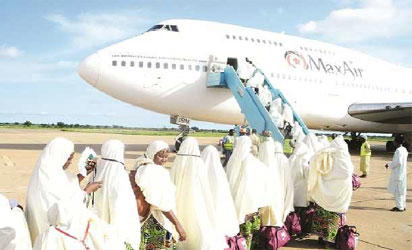 •Nigerian Pilgrims
By Suzan Edeh
BAUCHI—Anxiety has gripped 2,201 intending pilgrims from Bauchi State, who are slated to perform this year's Hajj, as less than a week to the closure of airports in Saudi Arabia, they are yet to leave the shores of Nigeria.
Although the state government has assured that all the intending pilgrims will be airlifted to the Holy Land to perform the spiritual exercise, some of the intending pilgrims, who spoke with Vanguard at the Games Village transit camp and Sir Abubakar Tafawa Balewa International Airport in Bauchi yesterday, expressed fears as the Saudi authorities have announced that airports will be closed by Saturday, August 26, for flights bringing pilgrims to the Holy Land, as the Hajj rites were expected to commence fully two days later.
One of the pilgrims, who spoke on grounds of anonymity, said: "The Saudi authorities are closing all flights from August 26 and Hajj rites are expect to commence two days after the closure."
Findings revealed that of the 3,090 intending pilgrims from the state, only 889 have so far been airlifted from the state capital as of yesterday morning, leaving a total of 2,201 stranded.
No cause for alarm— Amirul Hajj
Reacting to the development, a member of the state's Amirul Hajj Committee, Uba Ahmed Nana, allayed fears, assuring that all of them will be airlifted before Saturday.
Speaking with journalists at Sir Abubakar Tafawa Balewa International Airport Bauchi, Nana said the airlift of intending pilgrims was being carried out state by state.
His words: "When it is the turn of Bauchi State, we shall fly all our intending pilgrims. No intending pilgrim will be left out even though time is not on our side.
"Bauchi State has just airlifted 889 out of 3090 intending pilgrims. Today is August 21, while the closing date is August 26. So there is no need to fear."