…Tasks NASS to come up with a position
…Denies having a snake farm
BY PETER DURU, MAKURDI
Governor Samuel Ortom of Benue state in this interview spoke about the health condition of ailing President Muhammadu Bauhari whom he recently visited in London, his alleged ownership of a snake farm in Makurdi, the agitation for the restructuring of the country and others.
Excerpt:
What is your view on the call in several quarters for the restructuring of Nigeria?
My personal view on the issue of restructuring is that we Nigerians sometime engage ourselves unnecessarily and waste time. We have elected representatives at the National Assembly representing everyone. 109 senators and 360 members of the House of Representatives representing every part and segment of this country whether you talk of region or ethnic or political zones. I have said that if people have issues, the National Assembly should take the matter up. It is the best place to discuss whether we are restructuring or not.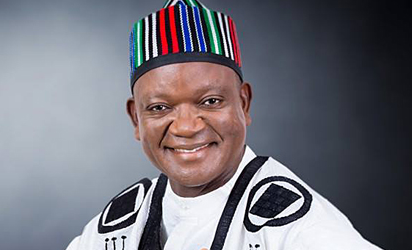 It is not when an individual rises up with ulterior motive and begins to say I want restructuring and it becomes an issue. Those people who are talking about restructuring, I'm sure if you ask them they might not even know the meaning of what they are saying. But it can be done, provided it is done to add value to the development of this country.
We will support it but not like those who are looking for cheap popularity by agitating for it. Presently there is no coordinated approach to it, there are so many divergent views about the issue, that is why my party came out to say they do not understand what is meant by restructuring. Because if you ask Mr. A about his view on the matter he will tell you something different from that of Mr B. From their views some people want this country divided across the geopolitical zones, some want it divided across the north and south, some want Biafra, others are saying they want Oduduwa. So these are the issues, but I think that we can help ourselves.
So, my position is that the National Assembly should discuss the restructuring issue and come out with a position. Usually we hold public hearings and we all make our inputs at that hearings and that will put it to rest instead of all this noise here and there. That is my position.
You were among the governors who visited President Muhammadu Buhari in London recently and we have been hearing various stories about his condition, what was his true health condition when you visited?
I feel so sad about some of the things people were saying about the health of our President, May God forgive all those who are saying all sorts of things about our President. This is not the time to mock our president or insult him. The fact is that God brought President Buhari at the time he came and he has been doing well.
We all know that the problem of Nigeria is nothing but corruption, but who was ready to take the bull by the horn if not Buhari. So we visited him, we interfaced with him, we discussed, cracked jokes and took pictures with him as well. He asked me about the security situation in Benue state and I told him that everything was under control, because he was particular on that and he was pleased.
All that he needs now is to eat well to gain more strength, and I think that as soon as his doctors give him the nod to come home he will come home because he is eager to return. We told him not to be in a hurry because the acting President was doing well. The good thing again was that the President has confidence in the acting President. God has healed him and we should continue to pray for him to be strong enough to come home and continue leading us.
With 2019 fast approaching, we want to know if you are running for a second term?
I keep saying that 2019 is around the corner but it is not a problem. For me as a Christian I always work with the Bible which says the problems of today are enough. So don't leave today's trouble and start fighting for tomorrow when by doing so you could easily break your neck. So let me deal with what I have today, when 2019 comes we will deal with it.
I have told my party supporters that nobody should insult anyone, nobody should fight because of me, God is in charge, we should all be orderly, let us do the right thing and let's be prayerful and God fearing.
When that time comes I will not sponsor youths to carry arms like some people did in the last election and attacked    my supporters. I will not do that. If God says it is going to be me nobody can stop me no matter what they do. But like I said, if I pray and no matter how bright my chances are and God says I should not run, I will not. I'm not going to kill myself because I want to be governor.
But I want Benue people to know that we inherited over N69billion debt in salaries, gratuity and pensions. N28billion came from the federal government as loan to us, Paris Club refund was N12.7billion and of course we borrowed and made it up to reduce the arrears we inherited.
The social media was recently awash with allegation that you have a snake farm in Makurdi which has led to fears amongst residents, how true is the allegation?
It is not true, members of the opposition are behind this falsehood because they do not have anything against my administration. Let me clarify an issue here. There is no crime in people going into faming because it is one of the ventures that the constitution of Nigerian allows even those of us who hold public office to go into.
It is not an offence and as far as I'm concerned there is nothing restricting the kind of farming you do. So nobody is restricted to do whether snake farming  or any other kind of farming. But to tell lies against your governor is an issue.
Firstly, I don't operate a snake farm, though it is not illegal. But associating me with snake farm just to castigate and cast aspersions on me is targeted at portraying me in bad light. I know that people say a lot of things but such people are lazy.
The farming I'm doing today started over 27years ago. Whatever I have here in Makurdi and my village have been going on since that time and several people have been there including the media. It's not a hidden thing and not a crime for me to go into. But the fact still remains that I don't operate a snake farm.
Over 20 years ago, God gave me an assignment, people were dying of snake bite and there was even a case that we treated to the tune of over N1million. Most of the victims of snake bite are usually peasant and poor people who cannot afford even N10,000 for treatment.
One day I went to the Federal Medical Centre and I saw a young man bleeding from his nostrils, and his eyes and I asked what the problem was and I was told that he was bitten by a viper snake. They were there for two days and there was no money for treatment. His parents were about taking him home to go and die.
I wept like a child that day. But God gave me that burden though I could not do anything that very day because I didn't have the money. But God said look you could have sold your car to preserve the life of that person. Since then I picked that burden, I engaged Saint Theresa hospital in Makurdi here, you can go there and cross check this fact and Raharama hospital also in Makurdi for free treatments. I also made an announcement by faith for people to access those hospitals for free treatment, it was about 20 years ago.
I made it clear that anyone who was bitten by a snake and could not afford treatment should go to the hospitals for free treatment in line with my agreement with the hospitals and since then millions of Naira have been spent on treatments. As I talk to you, as at the end of June I have a bill of over N31million. I don't know the beneficiaries but they could have died because how do you expect a peasant farmer to raise N30,000 for such treatment. So for someone who is committed to philanthropy and saving lives and this is being said about him instead of promoting and projecting what he is doing is saddening.
There was a prophesy by a Bishop in the state that you would not be able to continue as governor of the state.
Before I became governor a fake prophet prophesied that if I became Governor he should be stoned, but God made me Governor. He has again come with another fake prophesy that I would not be able to continue in office. I know that there are false prophets all over the place so his prophecies will certainly not come to pass. I know we walk closely with God and Benue people will certainly be happier for having this government, that I can assure everyone in the state.