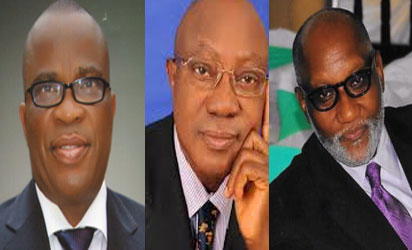 Obaze, Obidigbo and Ezeemo
By Vincent Ujumadu
THREE governorship aspirants from three political parties have participated in a forum organized by a group of Anambra political elders in Awka
Those who appeared at the forum were Mr. Oseloka Obaze of the Peoples Democratic Party, PDP, Dr. Chike Obidigbo of the All Progressives Congress, APC, and Mr. Godwin Ezeemo of Progressives Peoples' Alliance, PPA.
The chairman of the Anambra Political Stakeholders' Forum, Dr. Okey Umeano, said the main aim of the forum, among others, is to "install in Anambra State a responsive and responsible government and to assist credible individuals who have political ambitions in any of the political parties in the country.
Obaze, in his speech at the forum, said his candidacy presented Anambra State with a credible leadership alternative. "For the record, I have taken the position that if elected the Executive Governor of Anambra State come November 18, 2017, I will keep faith and serve for only four years. Thus Anambra North will conclude its term in 2022, as agreed."
"I am a student of comparative politics and governance. So, when you say a nation is doing well; we must ask, can it do better? When you say a state is working; I will ask, is there still room for development?
In his speech, Obidigbo said the state needs someone who can create jobs for the teeming unemployed, adding that as an industrialist and employer of labour, he knows what to do to end unemployment in the state.
Ezeemo also said that having studied the problems of the state, he had evolved a master plan for moving Anambra State forward.
He specifically said that his administration would emphasize on the power sector, which he described as a catalyst for industrial growth.