The Indonesian Liga 1 season is one third of the way through, with Robert Alberts' PSM Makassar holding a one-point lead from Madura United, for whom Nigerian import Peter Odemwingie has been a revelation.
The official return of professional football in Southeast Asia's largest nation in 2017 after the year-long FIFA ban has brought many talking points.
At the top of the list is the form and fortunes of several high-profile imports whose performances have been less than consistent in the twilight of their careers.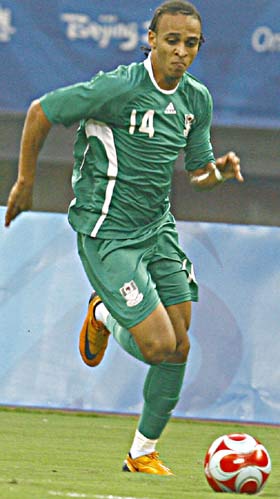 There are few imports who have made such an impact in such a short time as this well-travelled winger. The news Odemwingie was coming to Java was widely reported, but was overshadowed by the arrival of his former African rival Michael Essien.
The former West Bromwich Albion and Stoke City winger sits on top of the scoring charts, thanks to nine goals in just nine starts.
As well as the quantity, the quality has impressed. There have been all kinds of strikes — spectacular rockets, smart finishes, clean headers. He is not hanging around the penalty spot waiting for service, the 35-year-old pops up all over the pitch, and has also created a few for others.