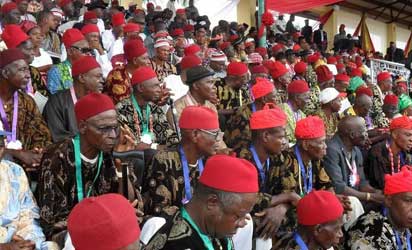 Igbo Chiefs
By Emeka Obasi
Events are unfolding fast,  truth is, Nigeria as we see it today may not stay in one piece unless certain issues are addressed before the end of the Muhammadu Buhari era. Echoes of freedom, separation and restructuring are booming.
I have observed that certain forces do not want the Southern part of this country to speak with one voice. Lord  Frederick Lugard amalgamated the Southern and Northern sections in 1914. With the passage of history, three regions: Eastern, Western and Midwestern, emerged from the South.
It is unfortunate that while the North continues to be one in the politics of domination, the South remains divided along ethnic and neo geo-political lines. I have dwelt so much on  Igbo-Yoruba ties.  The younger ones who do not know history continue to abuse themselves as Biafrauds and Yorobastards. Those of us, their seniors, will not allow this internet war to distract us. The South must unite for this country to move forward.
Today, the former Eastern region is my attraction. The creation of 12 States in 1967 was  to sow a seed of discord in the East. During the 1967 Pogrom, Easterners, Westerners and Mid-Westerners were murdered in cold blood.
Victims like Majors Ukpo Isong, Ibanga Ekanem,  Capt. A.E. Akpet and Lt. E.B. Akpet were from the Eastern Region. The West lost Col. Adekunle Fajuyi, Major A.D. Ogunro, and Lts. S.E. Idowu and A.O. Olaniyan.  Lt.Col. Gabriel Okonweze and Maj. Alistair Drummond were from the Mid-West.
The Eastern Region was one, after the killings in the North and parts of the West. And long before the July 1966 coup, there was one strong and economically viable East. In politics everywhere, there is bound to be opposition. Yes, not all Easterners belonged to the NCNC and not all of them were politicians.
Drs. Nnamdi Azikiwe, Akanu Ibiam, Ozuomba Mbadiwe  and  Eni Njoku, were at the Hope Waddell Institute, Calabar.  Martin Elechi attended Mary Knoll Secondary School, Ogoja.
Clement Isong and Egbert Udo Udoma passed out from Methodist College, Uzuakoli. Ken Saro-Wiwa, George Tamunoiyowunam Kurubo, Okoi Arikpo and Bassy Ukpong attended Government College Umuahia. The first black Principal of that great institution that produced  Chinua Achebe and Vincent Ike was Chief Erekosima .
Today in GCU and Government Secondary School, Owerri, you have Erekosima Houses.  Alfred Diette-Spiff's Commissioner for Trade and Industry,  Kombo Igbeta, from Ogbolomabiri, Nembe was Principal of Government College Owerri.
Secretary to Spiff's  Government, Wenike Tienabeso was a product of Dennis Memorial Grammar School , Onitsha. Senator Obi Wali was a student of St. Augustine's Grammar School, Nkwerre. Edet  Inyang and Thompson Wakama enjoyed their job as lecturers at the University of Nigeria ,Nsukka.
Many Ijaw have blamed Gen. Johnson Aguiyi Ironsi for stopping Isaac Adaka Boro and the  Niger Delta Volunteer Forces in 1966. The uninformed  fail to understand Ironsi's love for the non–Igbo of the Eastern Region.
As Head of State, three of his Service Chiefs were from the so called Eastern minorities. Kurubo became the first Nigerian Head of the Air Force. Captain Edet Wey led the Navy. Louis Edet was Police Chief.
And when Ironsi sent troops to handle Boro, he made sure Maj. John Obienu  led the Internal Security Operations, full of Northern officers like Lts. Yohanna Kure and Mohammed Jega. Ironsi's Navy ADC was an Ijaw subaltern, Dennis Okujagu.
Boro had no problem with the Igbo, his grouse was with Nigeria. President of Biafra Students Union, Prof. Emeka Enejere, made this clear at the Boro Colloqium, in Yenogoa, four years ago. Boro actually took the Tafawa Balewa government to court over the Federal elections, in 1965.
Not many know that as a chemistry student, Boro became President of the UNN Students Union after defeating two Igbo candidates in the 1964/65 session. His closest rival, Jude Emezie, was backed by the outgoing President, Onyemanze Ejiogu. The other candidate was  Francis Okolie, a sophomore. When Boro took the country to court as first plaintiff, the second plaintiff was Emezie.
Some talk of what Azikiwe did to Prof Eyo Ita to become First Premier of Eastern Region and  how Dr. Michael Okpara descended on some  Ibibio and Annang for not voting NCNC. All those were resolved before the declaration of Biafra.
It is on record that Gen. Emeka Ojukwu contacted the Eastern Regional Consultative Assembly before he declared Biafra. Of the 335 members, 165 were non-Igbo. One member, Dr. Okoi Arikpo an Ekoi, from Ugep, defected to Nigeria  allegedly because he was not appointed minister by Ojukwu. Gowon welcomed him with the job of Nigeria's External Affairs minister. His Biafran counterpart was fellow COR man, Mathew Mbu.
The same happened  with Kurubo. He said he could not serve under Ojukwu because they were equals in Ironsi's National Military Council. A handy excuse came when Ojukwu replaced Dr. Nebo Graham-Douglas, a Kalabari man, as Attorney General with Chris Mojekwu, from Nnewi.
Kurubo disappeared to Nigeria. In two months Gowon dropped him as Air Chief and flung him to the Soviet Union as Ambassador. The same happened to Gen. Emmanuel Ekpo. From Chief of Staff, Armed Forces in 1967, Gowon pushed him to the Defence Academy as Commandant.
The non-Igbo in Biafra were well recognized. Gen. Philip Effiong was next to Ojukwu. Ntiyong Akpan was Secretary to the Government, Ignatius Kogbara, High Commissioner to the UK. Ekukinam Bassey, Frank Opigo, Emmanuel Aguma,Samuel Cookey and Okokon Ndem, all held enviable positions.
In the military, there were Lt.Col Nsudoh,Maj. Akpan Utuk, Maj. Archibong, Capts. Willie Murray-Bruce and Ibi Brown, Victor Masi and Clement Ebri.
Today, the Eastern region must return to the days of yore. The  wound of the past shall be healed. Through Goodluck Jonathan, the Igbo passed a message to the Ijaw. It is time for the Ijaw to think back. There is Godswill Akpabio, bringing Igbo and Akwa Ibom together just like Liyel Imoke  and Ndoma Egba in Cross River. NyesomWike could also imbibe that spirit in Rivers.